Food to eat on New Year's Eve
2016.01.26
31st of December is known as Omisoka (the last day of the year). Every year, at night of the day, I eat "Year-crossing buckwheat (Soba) noodles" without fail.
The buckwheat noodle-Soba is easy to bite off compared to other noodles. So people wish to "cut off bad luck from the past year" as they eat it. There seems also another reason why Soba is eaten on this particular day.
Since a long time ago, the buckwheat noodle had believed to be good for health, removing accumulated toxins in the organs. In order to start New Year in good health condition, people seemed to eat Soba in the evening of Omisoka.
Each year, my father prepares Soba for my family. Whenever we are at home to send off the old year, our family eat Soba all together just before we welcome the New Year. This time, something like the picture.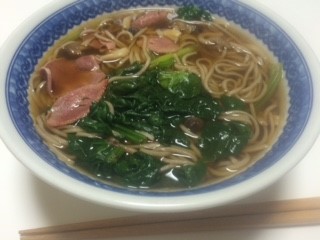 We ate up the delicious Year-crossing Soba noodles as usual.
Wishing this 2016 becomes another wonderful year♪
       
Author:Yuka

I am high school student living in Tokyo. I have many interests such as reading, taking photos, music and so on ♪
Relevant Categories