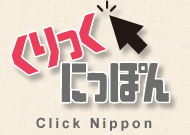 This segment is all about hot trends in Japan and the people who are part of such trends. How did they get interested? What has come of their involvement? What exactly do they do and what's the thinking behind it? They'll tell you themselves in My Way Your Way.
Every year has many special occasions—traditional festivals, school events, family affairs, and even days that carry a unique meaning for just one person. In fact, every day of the year is an anniversary of something for someone. In 1/365, high school and college students living in Japan report on how they spend their special days.
Click Nippon editorial staff share topics and stories that could not be included in the articles as well as information about hot topics and trends.
Tips for Teachers

The Teacher Forum presents tips on using Click Nippon material in Japanese-language or other Japan-related classes.
Students in Japanese-language courses should aim for more than just improved Japanese proficiency; we also hope their language studies will help develop the skills they will need to make their own way in the twenty-first century. The Teacher's Craft is a series of essays by Japanese-language teachers who are turning this idea into classroom practice. Follow the process of how this thinking is applied in actual lesson development.
This is the place to go for ideas on using My Way Your Way articles in Japanese-language classes.
The Archives has two sections. The Bookshelf contains PDFs of articles that appeared on the Click Nippon site from 2009 through 2011. These articles were originally published in the newsletters Takarabako and Hidamari. Ideas for Cultural Input in Japanese-language Class presents winning entries from the Contest on Ideas and Examples of How to Teach Culture in Japanese-language Class, held by TJF every other year from 1995 to 1999.
"I want to be notified when a new article goes up on the site!"
"How nice it would be to be reminded of the articles I wanted to read. I always bookmark them and then forget!"
"I want to know how other teachers are making use of this site in their classrooms."

TJF publishes the email newsletter "Click Nippon News" to support teacher needs like these, bringing you—