Cherry Blossom Viewing (Hanami)
Recommended: Hanami "Flower Viewing" with Tongue
2014.04.12
There must be no other country but Japan that is absolutely in love with cherry blossom. Sakura, or cherry trees, has the similar stature as chrysanthemum, and is Japan's unofficial national flower. Every time this year, sakura is enjoyed and celebrated in various ways including via hanami "flower viewing," as motifs for accessories and artwork, and as materials for industrial products or food.
As motifs, sakura is often used for the designs for necklaces and ear piecing. Often as sakura represents the meetings and farewells of the spring time, songs sang at schools' graduation ceremonies often use sakura as the seasonal keyword. (Japanese school year usually starts in April and end in March, and cherry blossom blooms in late March to early April.)
As materials, sakura is used as an agent to dye tea towels. If you boil down the branches of sakura, you can get a pale pink colour for use. Also there are many restaurants that use sakura as edible materials on their menu, and offer spring-only items that include sakura. 
Below is the salt-pickled sakura flower with white sesame seeds that I enjoyed on the day I went to flower viewing!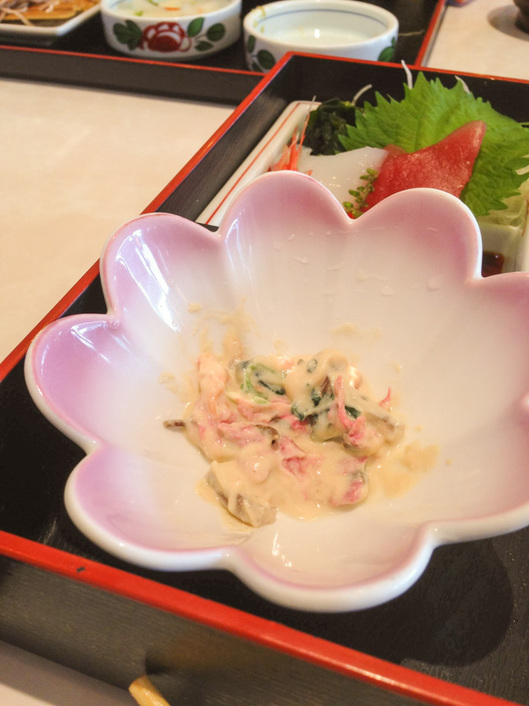 Sakura flower pickles are made just like vegetable pickles, by massaging salt and vinegar into the flowers and pickle them in a container with a heavy stone as a weight on top.  It's a very celebratory food, but I couldn't finish eating as I couldn't handle its plant-like smell and its texture.
The next one is "sakura dai carpaccio", hors d'oeuvre of cherry bass, which often spawn at this time of the year when cherry blossoms.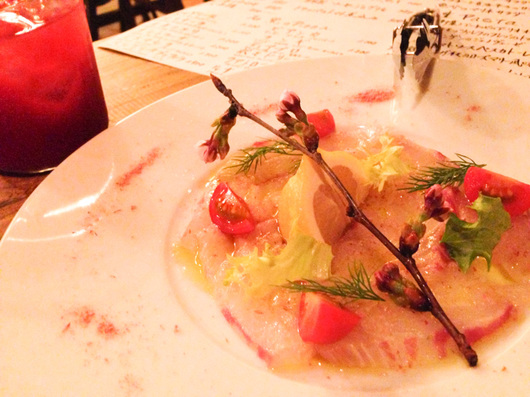 On the outer layer of the plate was sprinkled sakura salt, and at the centre was an actual cherry branch as a decoration. Sakura salt is the dried and crushed salt-pickled sakura flower, and often use for tempura.

Those are some of the popular ways to eat sakura!

For those of you who think it's too cold to go out for flower viewing, I totally recommend: "Hanami flower viewing by eating"!

Lastly, the restaurant that served me the pictured sakura dinner that night is located along the Oh-Oka River, one of the best sakura viewing spots in Yokohama. And here's the picture from a bridge over Oh-Oka River.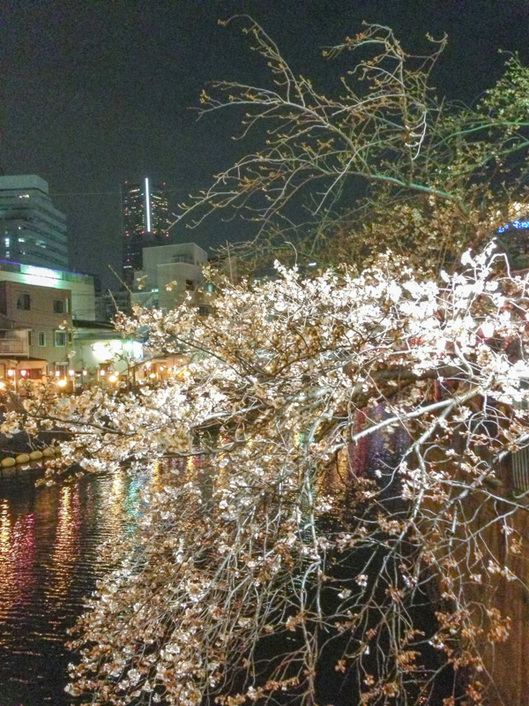 You can see a gorgeous joint performance of cherry blossom and the Yokohama Landmark Tower! 
       
Author:Hinano

I am sophomore at the University in Tokyo. I live with my parents in Yokohama. I hand-make all my gifts! I love eating and reading.
Relevant Categories