My hardworking and memorable university festival
2014.11.04
From 1st November till 3rd November, School festival was held at our university. This time of the year is the typical festival season for universities. Many of my friends were having university festival as well. Together with my friends, I visited various exhibition in the university in addition to archery and shooting experience at each club.
Please see the following picture of the miniature railway at the Railway Fan Club. (Miniature trains were running on the model railways.)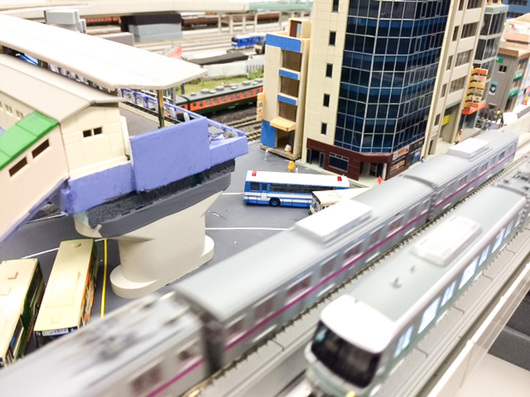 I am a member of the photo taking club, which had completed its exhibition preparation by opening day of the festival. It was a real hard work! (laughter). Many culture circles may not practice hard physical exercises. However when it comes to festival preparation, what we did was as hard as sports circles. Carrying concrete blocks and big panels for pictures from our club room to the exhibition room. (I carried it 4 times) It was so hard. Of course once the exhibition had been set up, we needed to put them away after the closing. It meant that the hard work needed to be done twice. It was so tough. (-_-)
The following picture is a part of the exhibition room, the monument to hard work.
When we finished cleaning up all the exhibition room and gathered for some food and drink, it was so refreshing. We have regained enough energy for the next year's festival.
The festival experience was such a fun.
If you have chance to join the school festival in Japan, please do it. I am sure that you will have a wonderful day.
       
Author:Ryota

I am Ryota. I enjoy college life every day.
Date of birth: 29th January, 1995
Zodiac sign: Aquarius
Blood type: AB
What I like: Japanese fencing, sweets, conversation, taking photos

Relevant Categories