Summer training camp of our softball team.
2014.08.15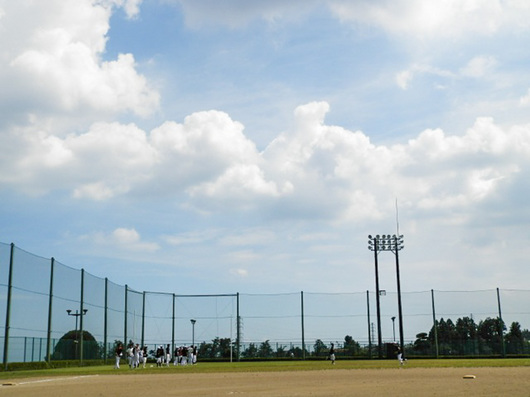 Each year in August, my softball team goes to summer camp for 5 days. Our camp started on August 4 this year.
The camp site was close to the sea. There was a nice sea breeze there. Each room was shared by 3 students.
Every day, we trained the same program.
From 5 am to 6 am was morning training of running, bat swing drills, and towel pitching drills.
Our daytime training started at 8:30 am. We practiced pitching, catching, fungo and running until the evening.
Evening training was from 7 pm to 8 pm, and included running, bat swing drills and towel pitching drills. Of course we ate meals between training.
In the morning I was sleepy and in the evening I was exhausted. It was a fight against myself. I spent 5 days with team mates, so I had many chances to chat even with students who were not my close friends. It was a great team-building opportunity.
"Summer camp is really hard." The words of our senior members were true. However, I enjoyed the days with nice team mates and teachers.
The photo shows our team warming up on the baseball ground.
       
Author:TAKA

I am in the second grade of high school. I am on my high school softball team. I love listening to pop music and sports. Every day, I study hard and also work hard on my softball with great joy.
Relevant Categories