Children's Day (Kodomo no Hi)
Helping Each Other on Children's Day!
2013.05.06
May 5th, the Sunday in the middle of Golden Week, was Children's Day.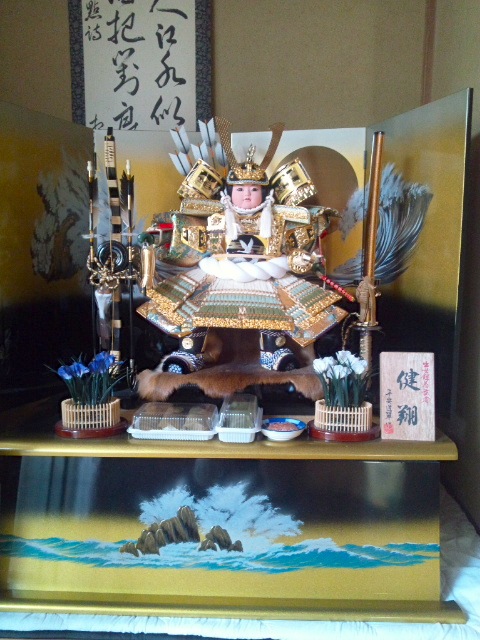 Every year, we decorate my house with a May Festival Doll and eat red rice, which is rice made with azuki beans.
I learned in textbooks that you should eat Zongzi, called chimaki in Japanese, which is rice wrapped in bamboo leaves. But at my house, my grandma cooks red rice every year. Also, for a snack we buy kashiwamochi (rice cakes wrapped in oak leaves). Everyone in my family likes different kinds, so we buy both kashiwamochi filled with crushed azuki beans and kashiwamochi filled with azuki bean paste. We eat them together at snack time. This year I ate the ones with the bean paste♪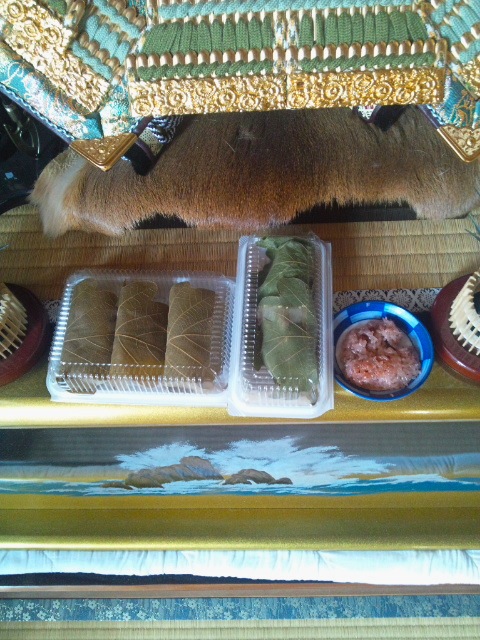 We decorate the house with May Festival dolls on the first day my mother has off in April.
On that day, my mom and grandma wake everyone up in the morning to get the dolls from the closet and carry them to the room in which we'll set them up.
My mom and grandma are in charge, but everyone in the family helps.

When my little brother was young, we'd also decorate with a haori (short, kimono-like coat), and he would wear it and play. But because it doesn't fit him anymore, we no longer decorate with it.

Even after May 5th has ended, there are still things to do. We have to clean up.
At my house, we clean up the dolls on May 6th. Because my mom usually has work that day, my mom and grandma make everyone in my family wake up early to clean up even though it is the Golden Week holiday. Compared to setting up the dolls for Girls' Day, the setup for the May Festival doll is not very complicated, so we can finish cleaning up relatively quickly. But because were woken up early even though it was a holiday, everyone was still tired and worked without much conversation.
Until I was in elementary school, we also decorated the outside of our house with a carp streamer, or koinobori. But because they get in the way when we are trying to hang up our laundry and less and less people in our neighborhood decorate with them these days, we don't put them up either.
Despite that, I saw some carp streamers this year when we were going to my grandparents' house. There were lots of them displayed in a large park, and they appeared to be swimming in the sky.
This is one of the few tasks that I perform with my family, so I want to treasure Children's Day from now on.


       
Author:Mio

I am senior. I like to read and listen to music. My latest favorite is One Direction. I recently set a goal of going abroad during every break from school, so I'm planning on working hard on my Chinese and English.
Relevant Categories