Having lunch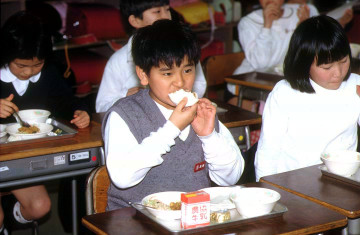 "Oh, I love nikuman! It's delicious!"
Today's lunch is nikuman (meat-filled steamed buns), deep-fried fish fritters, salad, soup, and milk.
We have milk every day.
I am happy today because we have nikuman. Usually we have bread.

Notes:
Kyushoku (School lunches) are provided in public elementary schools. Students eat kyuushoku in the homeroom with classmates and the homeroom teacher. Eating in the classroom is only permitted at kyushoku. Part of the cost is borne by the students' parents. Though prices depend on the community, the fee is about 4,000 yen per month. In the 2004 school year, 99.4% of public elementary schools served kyushoku.