Vaulting in PE class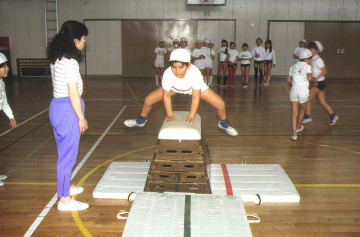 "Up and over, Kentaro!"
"Here I come!"
Today, we're practicing vaulting in gym class. Vaulting is one of the kinds of gymnastics introduced in elementary school PE class.
We change into our gym uniforms.
Our gym uniforms, which we wear all year round, even in the winter, are short-sleeved T-shirts and shorts.

Notes:
Many sports are played in Japanese gym class. These include gymnastics such as vaulting horse, mat exercises, the horizontal bars, the balance beam, as well as soccer, dodge ball, baseball, basketball, track and field, and a required course of swimming in the pool. Children also do body expression (dance and rhythmic gymnastics), jump rope and unicycles. Schools in the northern parts of the country do winter sports such as skiing and skating. Some schools also have stilts.