Leaving home for school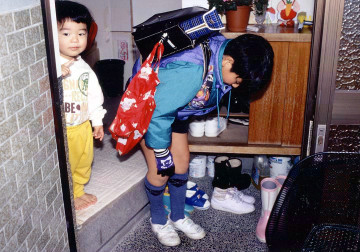 "I'm going to school!"
"Off you go! Watch out for the traffic, okay?!"
I leave home for school around eight o'clock in the morning. In the entrance hall (genkan), I put my shoes on. It takes me about 15 minutes to get to school.
My father leaves for work earlier. He takes the bus to his office.
My mother takes care of the house.
My brother Tetsu is still only two, so he stays home with my mother.

Notes:
When entering a Japanese house it's necessary to take one's shoes off in the genkan (entryway). In the genkan there is a getabako (shoe cupboard) where you can put your shoes. Also, usually the hallway or entrance hall beyond it is one step higher. In Japanese, "entering the house" is often expressed with the words, ie ni agaru, or "get up into the house," because usually one does literally step up to enter.