Having breakfast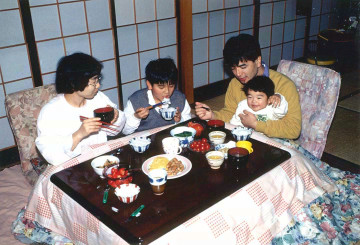 "Settle down and eat."
"Okay. Mmm! This looks good."
We eat breakfast together.
Sometimes we have Japanese-style breakfast and sometimes we have Western-style breakfast.
Today's breakfast is rice, miso soup, omelets, sausages, and salad.

Notes:
In the morning there are families who eat the traditional Japanese breakfast of rice and miso soup, but there are also families that eat Western breakfasts with bread, cooked eggs, orange juice and coffee. There are times when traditional Japanese foods and foods from other countries will sit side by side on the kitchen table.