Doing homework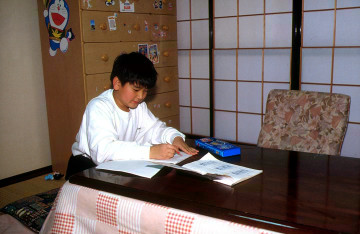 "Oh, this is easy! I'll be done in no time."
At home I do my homework after changing my clothes and having a snack. In winter I always study in the kotatsu (a table equipped with a heater).
Our homework is usually kanji practice and arithmetic drills.
I finish in about 30 minutes.

Notes:
The kotatsu is a type of heating device. It is a low table with a built-in heating unit on its underside. A quilt is draped over the table, covering the sides of the table to keep the heat inside. Not only family members but guests also sit at the kotatsu, warming the lower part of their bodies. The advantage of the kotatsu is its energy-efficiency. In the summer the quilt can be removed and the kotatsu can be used as a table.