ぼくのまち、京都

---

My town: Around Kyoto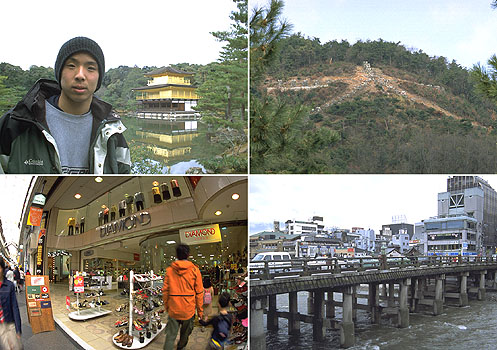 【上段左】京都の名所としてぼくが最初に思いうかべるのは金閣寺です。うちからとても近いのですが、小学校の遠足で来て以来、久しぶりに訪れました。地元に住んでいるとそんなものです。
【上段右】金閣寺以外に、京都の風景で思いうかべるのは、うちの近くの大文字山。毎朝、自転車で駅に向かう途中に見える景色です。毎年、お盆が終わる8月16日の夜、この山に「大」という火の文字が浮かびあがります。
【下段左】京都の繁華街のひとつ、新京極です。よくショッピングに来るまちです。
【下段右】京都市内を流れる鴨川にかかる三条大橋。


---
[Top left] When it comes to famous sites of Kyoto, the first place I think of is the temple Kinkakuji, with its Golden Pavilion. Although it's right near my house, for this picture I visited it for the first time since we went there on an excursion in elementary school. I suppose you just take such places for granted when you're a local.
[Top right] Another hallmark of the Kyoto landscape I think is important is the hill called Daimonjiyama, which is also not far from my house. I see it every morning when I cycle to the train station. At night on August 16, which is the last day of the Bon festival, signal fires are lined up in the shape of a giant Chinese character for "big" (大, dai) on the side of the hill.
[Bottom left] Shinkyogoku, one of Kyoto's shopping districts and one of my usual shopping haunts.
[Bottom right] The Sanjo Ohashi bridge over the Kamogawa, the river that flows through downtown Kyoto.