Kentaro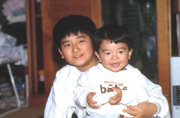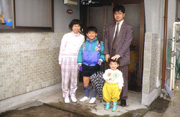 Hello. My name is Kentaro. Nice to meet you. Today I am going to tell you about a day in my life. My home is in the city of Kanazawa, in Ishikawa prefecture. In Kanazawa we have a lot of snow in the winter. I am nine years old and in the third grade in school. My birthday is April 22. I live with my father, mother, and my younger brother. My father works for a company. My brother's name is Tetsu. He's two years old. Don't you think he's cute?
I love school because I have a lot of friends to play with. My friends have nicknamed me Ken-Ken. My favorite subject is science. What do you like in your school?
When I get home after school I sometimes watch TV animation and sometimes have friends over to play. One of my favorite pastimes is drawing. I like the manga Doraemon. Do you know who Doraemon is?

This is an English translation of Kentaro's message. The recorded message is in Japanese.