Taking a bath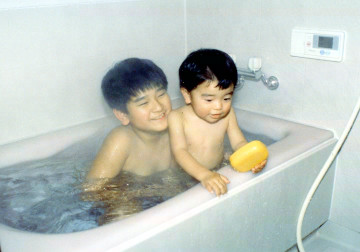 "A hot bath feels sooo good!."
Everyday I take a bath after supper.
In Japan, first we wash outside the bath and then climb in to relax in the hot water.
I love taking a bath. It's so relaxing to soak in the hot water.
Sometimes I get in the bath with my father or Tetsu.

Notes:
The typical Japanese bath is separated from the toilet and sink areas, and consists of a tub for soaking and a wash area. The whole family often uses the same hot water to soak, so it is important to wash thoroughly before getting in the tub. In recent years, an increasing number of young people opt to take showers. "Unit baths" in which the toilet and bath are located in the same area are common in single occupancy apartments and hotels.