| | |
| --- | --- |
| | |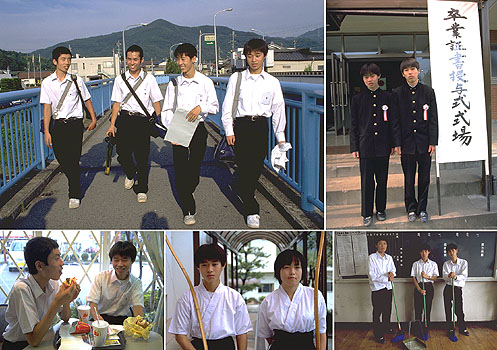 【上段左】学校が終わって、友だちと駅に向かっているところです。市川にかかる橋を渡っています。
【上段右】卒業式の日に宮崎くんと。宮崎くんは落ちついていておだやかな性格の持ち主です。ぼくと話がよくあいます。気をつかわなくてもいい友だちです。卒業式では、3年間がんばったという満足感にひたると同時に、友だちと別れ、学校を離れていく寂しさを感じました。
【下段左】マック(マクドナルド)で佐藤くんと。塾のない日は、部活のあとよくマックに寄ります。
【下段中】弓道部の副部長と。彼女は副部長としていろいろな面で部長のぼくをフォローしてくれました。
【下段右】そうじは、1週間ごとに交代する当番制です。当番になった班は教室を中心にそうじをします。ふざけながらしていたので、そうじはそんなに嫌いではありませんでした。


---
[Top left] Walking from my high school to the train station with my friends after school. We cross a bridge over the Ichikawa River.
[Top right] With Miyazaki-kun on graduation day. He is a quiet guy and easygoing, and we're interested in the same kinds of things. He's the kind of friend I can relax with. At graduation, I was proud of myself for getting through three years of high school, but I was also feeling kind of sad because it meant parting from friends and the school I'd grown close to.
[Bottom left] Eating at McDonald's with my friend Sato-kun. On days we don't have juku (cram school), we often go to McDonald's on the way home after club practice.
[Bottom center] With the assistant head of the kyudo club. She always supports me and helps out with my responsibilities as head of the club.
[Bottom right] We take turns on a weekly basis with cleaning duty. We're divided up into groups and take turns cleaning mainly the classrooms. We used to clown around a lot while we were cleaning, so I didn't dislike it all that much.


写真をクリックすると大きい画像(A4プリントサイズ)を表示することができます。パスワードはTJF Photo Data Bank と同じです。
Click the photograph to view an enlarged version that can be printed on standard quality A4 paper ( 210mm x 296mm ). Please use the TJF Photo Data Bank Password. TJF Photo Data Bank.
Mizushima Yu | Oishi Kanta | Sakai Michi | Tamaki Shun'ichi | Yoshida Kojiro | Yamamoto Takayuk | Yoo Yoo Jin
Deai Home | Photos' Top | Teacher Support Information