| | |
| --- | --- |
| | |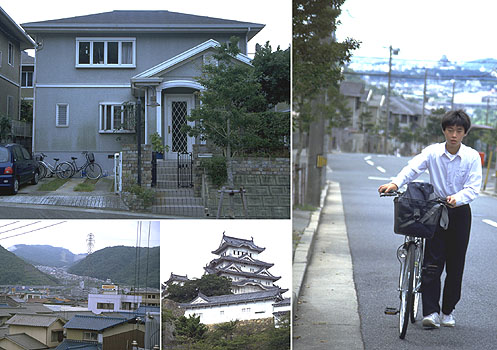 【上段左】自宅
【【下段左】駅から自宅に帰る途中の風景です。山を切り開いてつくられた住宅地にぼくの自宅があります。
【下段中】姫路城は世界遺産にも指定されているだけあって、その美しさはどの城にも負けないと思います。夜はライトアップされて、神秘的でもあります。
【右】自宅付近の上り坂です。犬をつれて、ウォークマンを聴きながら、このあたりをよく散歩します。ぼくの住む住宅街は高台なので、お城や市街のきれいな風景を見渡すことができます。夜景や夜の雰囲気がすごく好きです。とくに秋や冬の夜は静かで好きです。寒い夜ほど星がきれいだと言われますが、本当にそうだと思います。


---
[Top left] My house.
[Bottom left] This is a view from the hill on the way home from the station. The area where I live was built up by cutting away part of a mountain.
[Bottom center] Himeji castle, which has been designated a treasure of World Heritage, makes a spectacular view. It is really quite magical when lighted up at night.
[Right] This is a hill near my house. I often take my Walkman and the dogs and go out for a walk. Since our house is located in a residential area built on a hill, we have a beautiful view of the city of Himeji and the famous Himeji castle. I really love the nightscape from here and the atmosphere at night. Especially in the fall and winer, it is extremely quiet. They say that the colder the nights, the more beautiful the stars, and I can confirm that.