ぼくのまち、東京:渋谷、六本木

---

My town Tokyo: Shibuya and Roppongi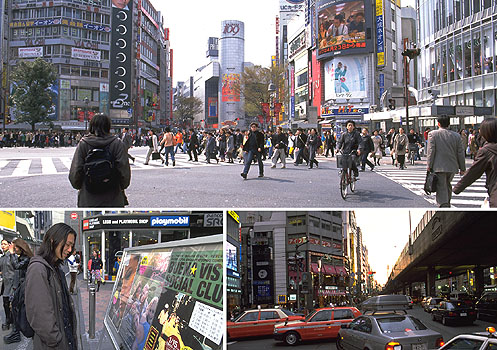 【上段】渋谷駅前のスクランブル交差点。ぼくはこの雑踏が好きです。用もないのに、渋谷に寄って、渋谷の空気を吸って帰ることもあります。交差点の雑踏のなかにいると、「孤独だなあ。生きているなあ」と感じるのです。
【下段左】渋谷にあるぼくの好きな映画館。映画は好きで、ビデオもいれると1ヵ月に10本くらい見ます。
【下段右】今住んでいるマンションの近くにある六本木駅前の交差点。いろいろな人々がいて多国籍のまちです。


---
[Top] This is the big "scramble" intersection in front of Shibuya Station where traffic stops and pedestrians cross from all directions at once. I love this kind of throng. Sometimes I go to Shibuya even if I don't have any business there, just to savor the atmosphere. When you're standing in midst of the crowd at this intersection, there is a keen sense of both being alive and being alone despite all those people about you.
[Bottom left] This is a movie theater in Shibuya I like to go to. I love movies, and see about 10 movies a month, including those I view at home on rental video.
[Bottom right] The main intersection at Roppongi near the condominium where I live now. It's an extremely diverse district populated by people of all nationalities.