友だち:演劇部の仲間たち

---

My friends: The members of the drama club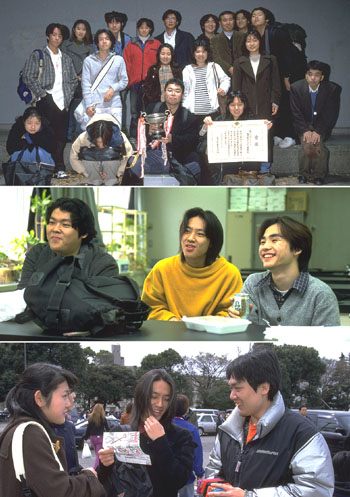 【上段】11月の定時制高校演劇大会のあとに部員みんなで撮った写真です。参加8校のなかで優勝を果たしました。
【中段】松浦さん(左)、まもちゃん(右)と昼食をとりながら、自分たちで制作したビデオを見ているところです。ビデオカメラを持ってまちに出かけて人を撮ったり、思いつきでいろいろなものを撮ったりして、それを自分たちで編集して楽しんでいます。
 松浦さんは、同年代の友だちのなかで、ぼくがいちばん尊敬している人物です。人に対して堂々と毒づきながらも悪い感情を抱かせない。天才的なバランス感覚をもっている人です。非常に弁がたち、どんな場でも盛りあげることができます。彼にであわなかったら、ぼくはもう少し頭でっかちでツマラナイ人間になっていたかもしれません。
 まもちゃんは批評眼にたけていて、もののみかたが哲学的です。
【下段】綾子、大輔と代々木のフリーマーケットに出かけました。フリーマーケットは掘り出しものが安く手に入るのでよく行きます。大輔の脚本や芝居にはセンスのよさを感じます。何をしたいかまだわからないようですが、恐ろしく可能性を秘めた人間だと思います。


---
[Top] This is a picture of all the club members taken after the part-time high school drama club festival competition in November. Eight drama clubs participated and we won the first prize.
[Center] Here I am with Matsuura-san (left) and Mamo-chan (right) during our lunch-hour, watching a video we made. We like to take our video cameras out in the town and take shots of people and all kinds of things on the spur of the moment. We enjoy editing what we've recorded and showing the results to each other.
Matsuura-san is the friend my own age I respect the most. He's got a sharp tongue, but somehow you don't feel insulted. He's critical but he cares, and he maintains a keen sense of balance between the two. He's a good talker and is the life of any party. If I hadn't met him, I'd certainly have been a more argumentative and boringly orthodox person.
Mamo-chan has an excellent critical eye; he sees things in a philosophical way.
[Bottom] I went to a flea market in Yoyogi with Ayako and Daisuke. We often go to flea markets because sometimes you can find real treasure there at cheap prices. Daisuke has a good sense for scripts and plays; he says he doesn't know what he wants to do, but I think he's a guy with great hidden potential.