ぼくのまち、東京:自宅周辺

---

My town Tokyo: Around my neighborhood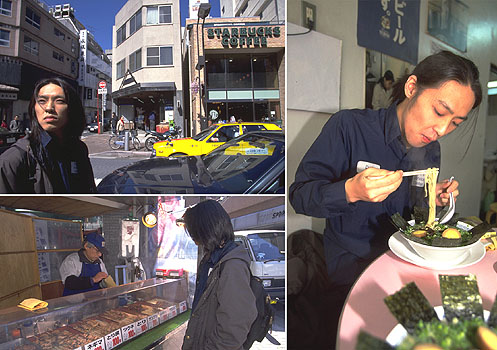 【上段左】実家のある広尾(渋谷区)から今住んでいるマンションのある六本木(港区)までよく歩きます。その途中にある商店街は下町情緒があふれるなかにも今どきの新しい店があったりします。新旧混在しているのがいい感じです。
【下段左】よく行く焼鳥屋。おいしいので、開いているとつい寄ってしまいます。カシラ、ナンコツを買って、その場で食べます。
【右】よく行くラーメン屋。ここのラーメンはとんこつ味でこってりしているけど、それでいてさっぱりしています。今まで食べたラーメンのなかで、ここのラーメンがいちばん好きです。具を何も入れなければ550円。この日は、チャーシューやねぎなど具を全種類入れてもらいました。全部で、1,050円でした。


---
[Top left] I often walk the relatively short distance between my parent's home in Hiroo (Shibuya-ku) to where I live in Roppongi (Minato-ku). The shops along the way include many with the atmosphere of old traditional Tokyo as well as many fashionable new shops. I really like the rich intermingling of old and new.
[Bottom left] A yakitori grill I frequent. The yakitori is so good, I can't resist stopping by whenever it's open. I buy a stick of grilled kashira (pork headmeat) or nankotsu (chicken breast cartilage) and eat it there on the spot.
[Right] This is a ramen restaurant where I often eat. The ramen here is made with a rich pork stock and still it leaves a clean, light aftertaste. Of all the ramen I've eaten, this one is the best. Just plain ramen is 550 yen. This time, however, I asked them to add slices of chashu (roast pork), onions, and whatever else they had. It came to 1,050 yen.