Making My Dream Come True
vol.2
Embracing Opportunity
Ikeda Mikio, 17, Aichi prefecture
2014.06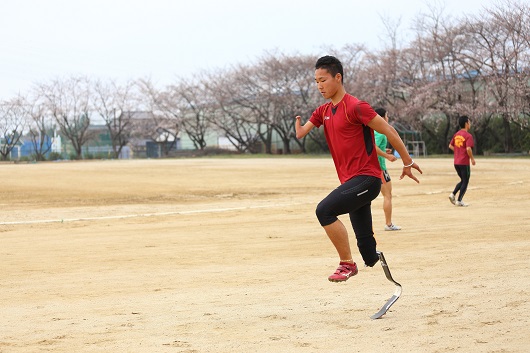 2014-06-05
©Nakasai Chiya
One of the promising Japanese athletes aiming for the Tokyo Paralympics in 2020 is third-year high school student Ikeda Mikio. Born with his right leg ending at the knee and right arm at the elbow and with two fingers missing from his left hand, Ikeda is a short-distance runner wearing a prosthetic leg. He tells us of his encounter with track and field sports and how he has been pursuing his dreams.
---
---
The Image that Inspired Me
 As I grew up, each year until around the time I was in third year of junior high school, my mother and I would go once a year to Komaki here in Aichi prefecture to the prosthetics manufacturer that made my daily use artificial leg. Since then I go around once every year and half to two years to have it remade. I also sometimes need get adjustments or repairs made.
 We had visited there many times before, but the summer of my third year in junior high there was a poster of Yamamoto Atsushi, the Paralympic track and field medalist, hanging in the lobby. It showed him in a long-jump competition* poised for the take off. Gazing at that poster I just thought, "Hey, I can do track too!"
 * Yamamoto won the Silver Medal for the long jump at the Beijing Paralympics (2008); he also competes in short-distance running events.
 I've loved physical activity since I was small, but I really didn't think I could compete in track and field events. In elementary school I played soccer with a local team. I was kicking the ball with my prosthetic, and then one time I broke it. My prosthetic leg is essential to daily life, so we do get some public support for costs, but it's expensive--it's worth more than 1 million yen--and it takes time to either repair or have a new one made. So I thought probably it would be impossible to continue soccer, and in junior high I joined the basketball club.
 I love basketball, but when I saw that photo of Yamamoto at the Paralympics, I couldn't contain myself any longer. I desperately wanted to do track. Around that time, a classmate I was close to took part in a national competition for high jump and there was also much talk about double below-knee amputee Oscar Pistorius, who had competed as the South African athlete at the Athletics World Championships held in Daegu, Korea. Hearing about those things had to be a big stimulus too.
 After the big school tournaments of summer are over, most of the third-year students quit the club to study for the high school entrance examinations, and I left the basketball club, too. Then I asked the teacher advisor of the track and field club if I could practice with them, and he said yes. I am really glad I started track at that time, because if I had waited, the improvement of my record would have been that much slower.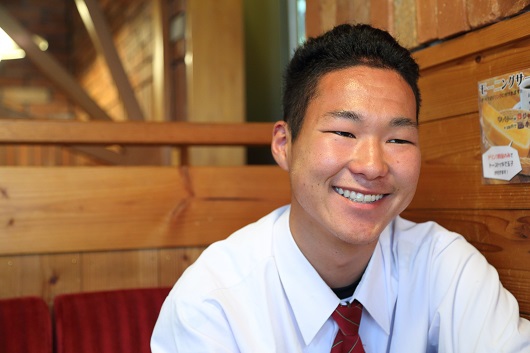 ©Nakasai Chiya
©Nakasai Chiya
Everyday use prosthetic leg.
Joining the Track and Field Club
 I decided I wanted to study sports, so I applied for the sports course at Miyoshi High School. After I was admitted, I of course joined the track and field club. I'm sure the others were all pretty skeptical, wondering how I intended to run with a prosthetic leg.
 No sooner had I joined the club than I began to talk about wanting to go for the Paralympics, so there were probably guys who thought I was joking or just boasting. But I was really serious: "I'll show them I can compete on the Paralympics level."
 But actually I couldn't run at all at the beginning. I told the teacher advisor of the club, "Please just give me six months to show what I can do." During my first year I could only cheer on my clubmates when they ran in competitions. I couldn't compete myself, and that made me sad and frustrated.
 My determination to be a Paralympic athlete hadn't disappeared, but from other people's point of view, they must have thought I was just talking big. It was pretty difficult to maintain my motivation, and sometimes I just wanted to quit the club. At one point, I confided to one of the third-year club members that I wanted to drop out, but he said, "Hey, isn't this the time you ought to dig in and show what you can do? Come on, stick with it!" I think that is what prevented me from giving up.
©Nakasai Chiya
I commute to high school by bicycle. I'm now used to the 30-minute trip.
My Practice Routine
 In the track and field club I practice along with everyone else. Our teacher decides the menu for our practice sessions, but he comes up with alternatives for the drills I can't do. Even then sometimes I can't complete everything in the drills.
 There are times when I want to run more but my body can't take it. I don't like to give up something I set out to do, so it's frustrating when I see what the other guys are doing and can't do the same. At first I pushed myself really hard, and sometimes when I practiced too much my knee would get all raw from the friction with the prosthetic and the sore would fester and be painful. Gradually, I became a better judge of what I could do, and I learned when to stop.
 In my second year of high school, our teacher advisor changed. The new teacher, Mr. Onoda, had been a track and field athlete himself so he gave me lots of very specific advice. For example, when I asked him how to strengthen the gluteal muscles at the sides of my hips, he taught me an exercise using elastic tubing. From before, I had been participating in competitions for able-bodied athletes using my regular prosthetic, but he found out about competitions for athletes with disabilities and helped get me registered as an athlete in the Japan Association of Athletics Federations for the Disabled. So that made it possible for me to compete in the Japan Disabled Athletics Championships in June 2013.
 I'm sure I wouldn't have got to that point if I hadn't stuck with practice in that first year of high school.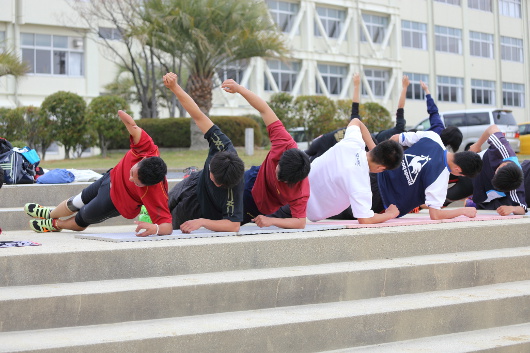 ©Nakasai Chiya
I practice the same exercises as the others.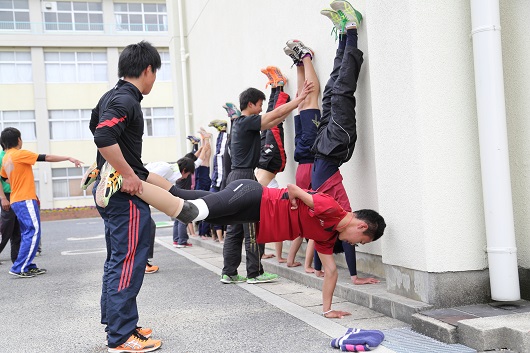 ©Nakasai Chiya
When the others are doing handstands, I do push-ups.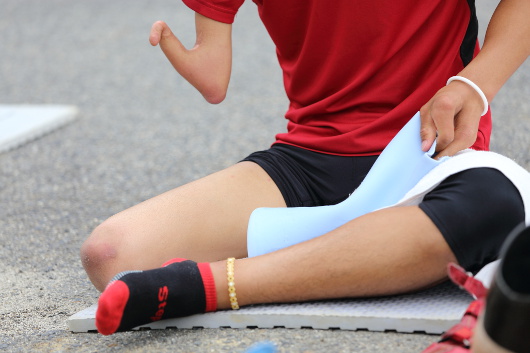 ©Nakasai Chiya
When I practice too much, my knee rubs too much against the prosthetic and gets inflamed.
Improved Record Wearing a Sports Prosthetic Leg
 I began wearing a prosthetic blade for competitive athletics the summer of my second year in high school. One of the athletes I really admire is Sato Keita (Japanese track and field entrant in the 2012 London Paralympics), who competes on the Chukyo University track and field team, and he advised me to wear a sports prosthetic. He also introduced me to Okino Atsuo, a prosthetist and orthotist in Tokyo. Mr. Okino has a lot of experience with prosthetic legs for athletes.
 There are no subsidies for sports prosthetics; each person has to sustain the cost, but thinking that if I were going to compete in track and field I couldn't do without one, I asked my parents for help and they agreed to put up the money. Even after Mr. Okino made the mold for my leg, I had to go to Tokyo three times for adjustments before it was really ready.
 Since beginning to wear the sports prosthetic, I'm able to run much longer distances. At first the spring of the blade seemed very strong and my body would swing back and forth. Only recently I think I've finally begun to run more smoothly.
 What I try to do when I run is to propel my prosthetic leg ahead of my body. British gold medalist at the London Paralympics Jonnie Peacock runs that way--prosthetic leg out in front of his body--and it gives him overwhelming power. I've watched videos of Peacock's runs over and over and try to have that image in my head as I run.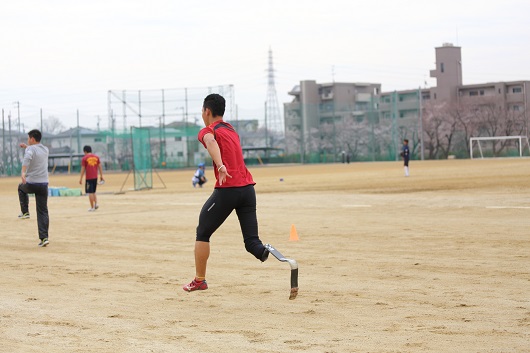 ©Nakasai Chiya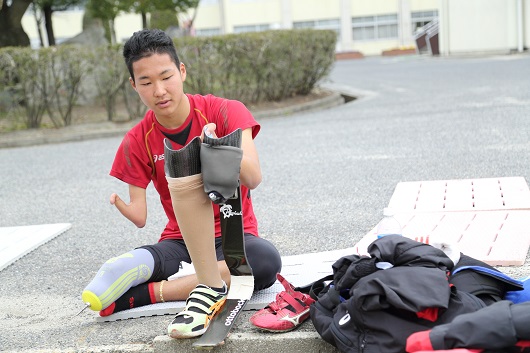 ©Nakasai Chiya
My daily use prosthetic (left) and sports prosthetic.
The Better to Improve My Record
 Right now I have two major challenges to overcome. One is that I have to strengthen the muscles in my right leg. Since I've been wearing a lower-right leg prosthetic since I was small, the balance of my musculature centers on my left side. People whose legs were amputated because of accidents or illness began using prosthesis after their bodies were more or less fully grown, so their musculature is fairly well balanced left and right. I, however, need to strengthen the muscles in my right leg in order to bring it into better balance with my left leg.
 On the other hand, my left-leg muscles are pretty well developed. Older teammates sometimes admire them, saying, "Hey, can I have your left-leg muscles?" I really want to strengthen my right leg in order to get better use out of the muscles in my left leg.
 My other problem is arm swing. Since I'm missing my right arm from the elbow, I forget to swing it. I'm doing exercises to increase the muscles in my right arm, but it will be difficult to achieve, so I'm thinking of getting an arm prosthesis. That would also help me overcome my problems at the starting block. Now, I have three points on the ground at the start--my left hand and both legs, but the balance is poor and so my takeoff is delayed.
 First I have to get fully accustomed to use of my sports prosthetic--make it an integral part of my body. Then, if I can overcome these two problems, my running will be smoother and my records will improve.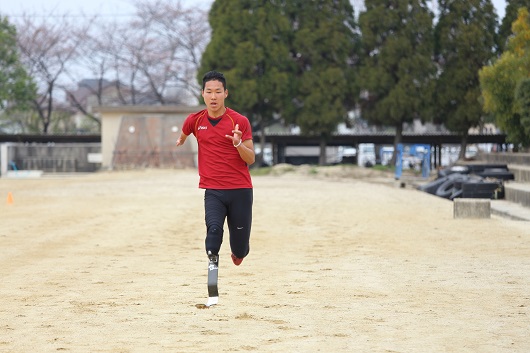 ©Nakasai Chiya
Aiming for the Tokyo Paralympics
 My goal for 2014 is to become a Japanese entrant in the Asian Para Games to be held in South Korea in October 2014. Senior athletes there are much faster than me in the 100-meter race, but I plan to aim for a spot in the 200- or 400-meter category. To build stamina, I run a 400-meter track plus 100 more meters last winter.
 For the 200-meter race, the corners are important, but I found that I can do the corners pretty well. I think I may be more suited to the 200-meter races than the straight-line 100-meter ones.
 My objective for next year is to go to the Athletics World Championships to be held in Doha, and then my next goal will be to go to the 2016 Paralympics in Rio. Beyond that yet again is the 2020 Tokyo Paralympics. In 2020 I'll be twenty-three, and probably that will be my best time, both mentally and physically. I'm hoping that, like dark horse Jonnie Peacock, who appeared out of nowhere and went on to win the London Paralympics held in his country, I can win at the Tokyo Paralympics.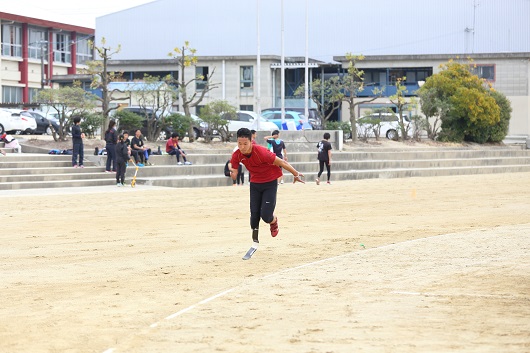 ©Nakasai Chiya
What I Can Do Now
 I think what I can be proud of now is that I haven't wasted the opportunities that have come my way.  In September 2013, when I ran in the Japan Para Championship, it was only one week after I first began using the sports prosthetic. There was a relay race with each team made up of four arm- or leg- disabled runners doing 400 meters each. Before the meet began, however, I learned that one of the runners had some problem with his legs and they were looking for a replacement. My specialty is 100 meters, and I hadn't yet run in a 400-meter race, but quickly I raised my hand and said if I would do, I'd be happy to run the relay. I was thinking that embracing this opportunity to run the 400-meter relay could well lead me to something else.
 The last part of the 400-meters was really painful, but I just kept running. Running that 400-meter relay, then, gave me the confidence that "I can really run 400."
 When I became a representative of Japan at the Asian Youth Para Championships in 2013, people around me began to look at me with different eyes. I can't afford to get overconfident on account of this, and must just keep aiming higher.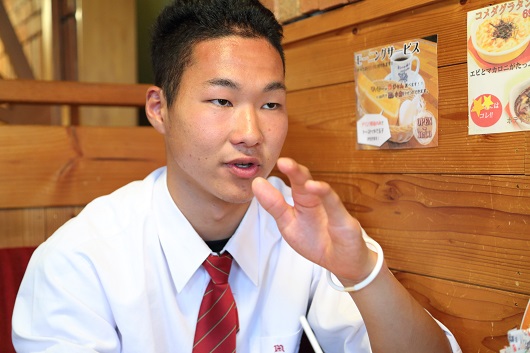 ©Nakasai Chiya
What Sports Has Taught Me
 Since I was pretty small, sports have introduced me to all kinds of things and has given me many friends. When I'm talking to friends who are in different sports from mine I get inspired to do the best that I can. Even if you have a disability, there is a great deal you can gain from a sport, so I want people to know about these sports that can be pursued even if you have a disability, and I especially hope they will try track and field.
 Another thing is the inspiration I have received from older club and team members. I'll never forget the time Sato Keita told me "One of these days it would be great if we can run a relay race together." That really keeps me going. I hope I can be such an inspiration for younger athletes as well.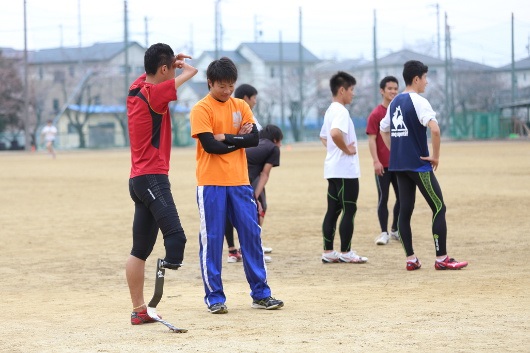 ©Nakasai Chiya
Chatting with high school club mates.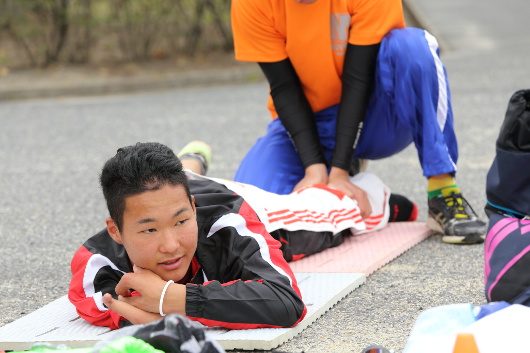 ©Nakasai Chiya
After practice, getting a massage from a club mate.
Interview: March 2014
Interviewer: Kawahara Yukari
Photographs: Chusai Kazuya
Putting on my sports prothetic.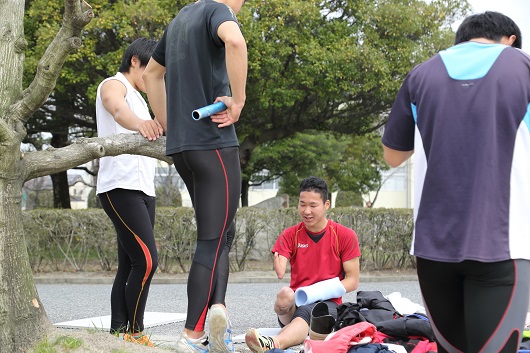 ©Nakasai Chiya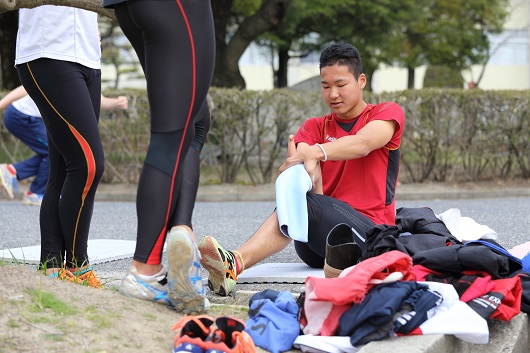 ©Nakasai Chiya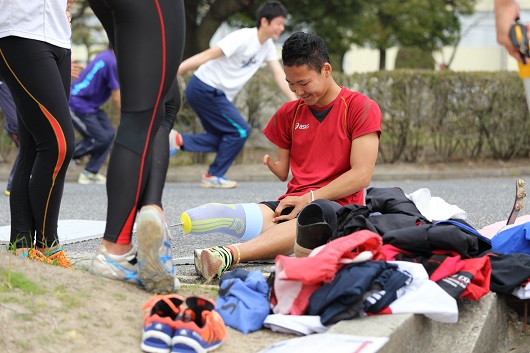 ©Nakasai Chiya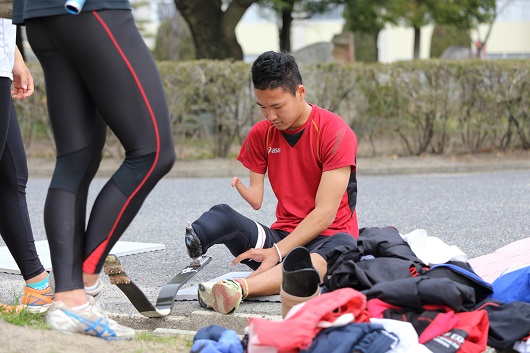 ©Nakasai Chiya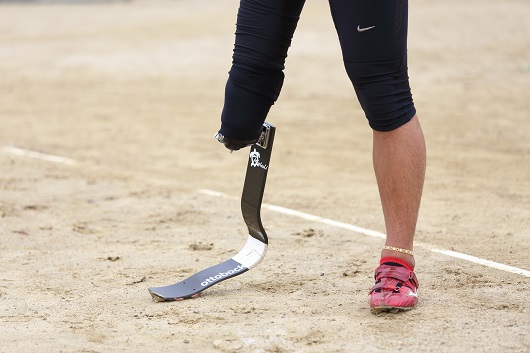 ©Nakasai Chiya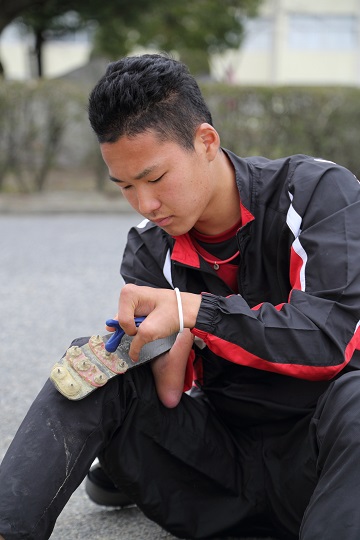 ©Nakasai Chiya
After taking off my blade, I remove the dirt and clean it.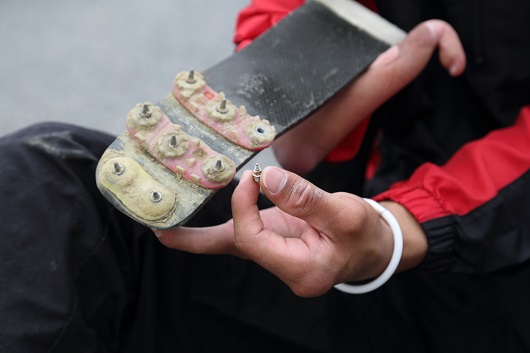 ©Nakasai Chiya
Other athletes change their shoes depending on the type of surface, but I have only one blade, so I change the spike pins accordingly.