vol.2
Ginyu, Front and Center
Shunshun, age 19, Tokyo His interest in idols during his high school years led Shunshun to become a dancer in otagei group Ginyu Tokusentai.
2013.04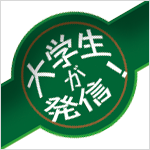 We at TJF have collaborated with a seminar class at Meiji University's School of Global Studies that aims to rediscover and share captivating aspects of Japan with the world.

Students taking the seminar split up into two groups, with one looking into the question, "Do you like idols?" and the other on "Expression through decoration."
A comment from the students:
A number of our requests for interviews were turned down, and had a lot of trouble securing interviewees. Even when people agreed to speak to us, they had busy schedules and we found it difficult to set up appointments.
Related link:
The Japan Forum Newsletter No. 97 "Up Close and Personal" PDF
Expressing Passion for Idols through Otagei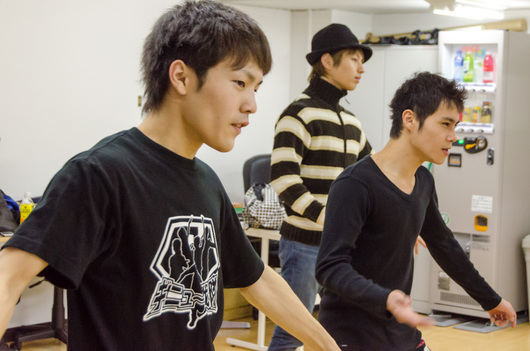 As a group performing otagei--short for otaku gei, or otaku performances, in which fans of Japanese "idol" celebrities dance along to the performers' songs--Ginyu Tokusentai (Ginyu Special Forces) are now known around the world, and take to the stage themselves. Ginyu member Shunshun, who is working to becoming the ultimate otagei performer, shares his feelings about idols and otagei.
---
Expressing Passion for Idols through Otagei
Otagei is a way to express one's passion for idols. Among fellow otagei friends, we describe the expression of our feelings through dance as "the embodiment of soul." When we encounter idols, we get really excited. And just waving our hands or applauding doesn't cut it. What we feel is so much stronger than what such actions can express. That's why, to bring our heightened feelings to the fore, we do otagei.
There are different types of otagei. There's so-called chikagei, from which otagei originated, and then there's cyalume dance, which we Ginyu Tokusentai do. The name comes from the cyalume glow sticks we use to make our dances look artistic
Hooked on Idols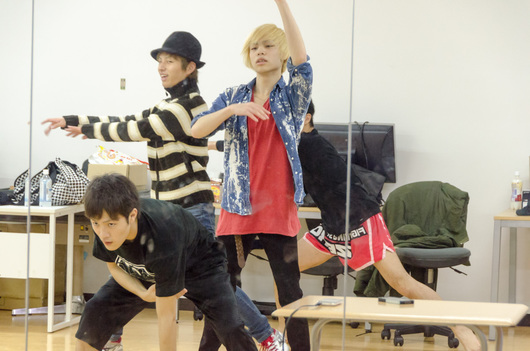 I remember I got into idols starting my second year in high school. Until then, I was a big fan of Exile, a 14-person male vocal and dance group.
I grew to like idols after a friend of mine who was hooked on AKB48, an idol group based in Tokyo's Akihabara district, made me borrow one of their DVDs. At the time I had no interest in AKB48, and the members all looked the same to me. I grudgingly watched the DVD, but found one of the members cute. The next day, I asked my friend who this girl was, and was told that it was Mayuyu. In real person, she's even cuter. That's how I got hooked.
Eventually, I became a fan of other idol groups, too. I was especially into Super☆Girls, whose live performances I used to go to at least twice a week. They'd just started promoting the group, so they were appearing at a lot of different events. I also used to go to public tapings of a radio program that the group was regularly on. If you bought one of their CDs, it came with a ticket that let you to shake hands with the group for free or sometimes 500 yen, so I would buy three of the same CD. As for AKB48, I've bought 15 of the same CD. But this was nothing. I know someone who bought hundreds of the same CDs...
It's a well-known fact that AKB didn't rise to popularity right away, andat their first show, there were only seven people in the audience. But since they've become popular, you have to go through a lottery to go to a live performance. I used to try out for the lottery for almost every show, there was about a one-in-forty chance of getting in, and I rarely got in. I would try out for the lottery with two of my friends, and go to the shows together. In my second year of high school, I went to about 11 shows. It came out to a rate of about once a month, but there was a point when I was going every week.
There are a lot of opportunities today for fans to meet idols in person. Being able to meet someone you see on TV is exciting and fun.
First Otagei Encounter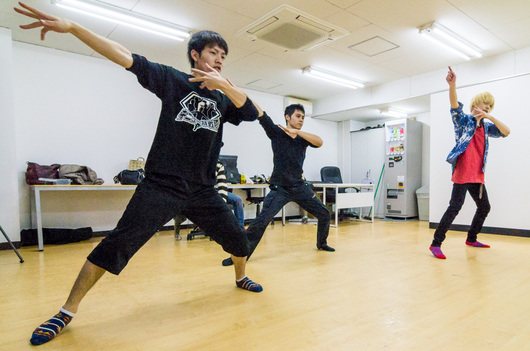 Ginyu Tokusentai started out about four years ago, but its members have changed over the years. I'm aboutthe third generation of people in the group.
The original Ginyu Tokusentai members put up video of them dancing on the video-sharing site Niconico, which got over 1 million views. That was what got a lot of people into doing otagei, and I was one of those people. Along with friends who were also into idols, I would come up with dances based on dances we saw of Ginyu Tokusentai online, and submit our own videos. From there, I just got more and more into it.
We would get comments on our videos saying, "This is amazing!" or "They've got mad skills!" or "Crazy sharp!" and we started getting more views. That made it so much fun, and encouraged us to make greater performances. Then we'd submit more of our videos.
Ginyu recently got an agencyto represent it and everything, so I'm thinking of taking a serious shot at this thing. Of course it's a lot of fun, but we need to be putting on quality performances, so it'll require loads of effort.
Otagei Variety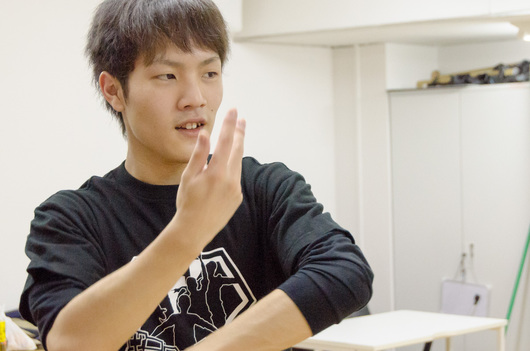 Otagei started out with fans cheering on idols from the gallery, but Ginyu now performs on stage, sometimes with idols themselves. When we perform with idols, we make any necessary changes to our performances, toning our dances down to make the idols stand out, or switching things around to match the songs being performed. Alice Juban--or Alice No. 10--was the first idol group I ever performed with. In 2011, we were in a web commercial for Puma shoes with Super☆Girls.
The first time I performed otagei on stage was March 31, 2011, at an event organized and performed by 18 year olds.It was my first time dancing in front of people, so I was really nervous. Before that, I'd performed at our school festival but that was something you could perform in if you applied, so it was a completely different kind of anxiety. Oh, and the sense of accomplishment afterwards. Doing otagei as an audience member of a performance is for play, so I don't get nervous, but dancing on stage is a different matter. I'm aware that I have to entertain people in the audience, and put on a solid show.
I love doing otagei on stage now.
A World without Idols...
I'm not as into idols now as I was in the past. I didn't have a girlfriend back then. But after I got together with someone, I naturally gravitated away from idols. It wasn't like my girlfriend didn't like that I liked idols, and she was impressed with my otagei. But if I kept going to see idols, I'd run out of money and time. Iwanted to be with my girlfriend. We've broken up since, but I never did go back to having the same zeal for idols as before.
But it was thanks to idols that otagei came to be. Without idols, there of course would be no Ginyu Tokusentai.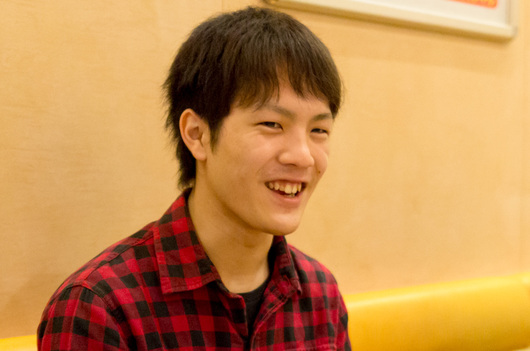 In high school, I was obsessed with idols, went to their "handshake events" and live shows, started doing otagei, and even danced at my school festival... But I was also on the school futsal team, and was really fulfilled outside of idol-related activities. My involvement with idols, though, allowed me to make friends who were also into idols, and we had a lot of fun together, made a lot of good memories. All of that has made me who I am today. Idols have played a huge role in my life.
Mastering Otagei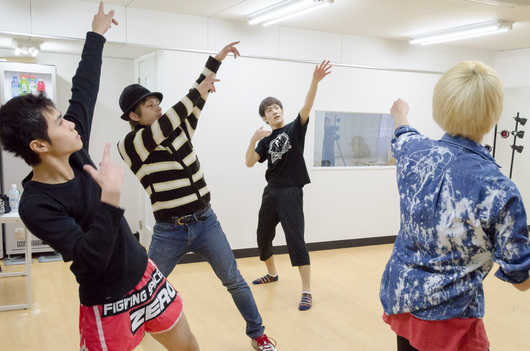 Online Ginyu videos have been viewed the most in Japan, but there are a significant number of people viewing our videos in the U.S., Hong Kong and elsewhere.I'm glad that people around the world are watching our performances. It's nice to get comments on our videos like "Wahaha, nice!" There are people in Singapore who started otagei after seeing our videos, and I hope otagei continues to spread abroad in this way.
The genre of otagei exists within the realm of otaku, but not in the general performing arts world. I want to keep at this until otagei reaches a level where it's recognized as a bona fide performance genre. I totally believe that otagei is an important part of Japanese culture.