アメリカンフットボール

---

Playing American football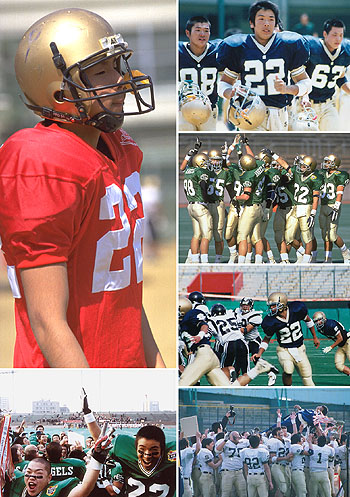 【上段左】ぼくの背番号は22。ぼくがあこがれている鹿島ディアーズの佐藤紀之選手と同じ番号です。最初は22番があいてなくて、2年生のときにやっと22番を手にいれました。
【下段左】全国大会で2連覇を達成しました。すごくうれしかったです。
【右】(いちばん上)チーム名はファイティング・エンジェルス。チームカラーは青です。
(上から2番め)試合前にディフェンスのメンバーで集まって気合をいれます。「ディフェンス最高!!」って叫んでいます。
(上から3番め)このチームは、パスでつなぐより、走って攻撃するラン・チーム。ディフェンスは鉄壁なので、ディフェンスの時間はいつも短いです。
(いちばん下)高校2年生のときに、全国大会で優勝して、みんなでコーチを胴上げしました。


---
[Top left] I wear the number 22 jersey, the same number as Sato Noriyuki of the Kajima Deers, a player I really admire. At first the number 22 was taken, so it wasn't until second year that I finally got to claim it.
[Bottom left] We won the national championships for the second year in a row. I was ecstatic.
[Right] (top) Our team is called the Fighting Angels, and blue is our team color.
(second from top) The defense breaking from the huddle before the game. We shout "Difensu saiko!" ("Our defense is the best!")
(second from bottom) On offense our team plays a running game rather than a passing game. Our defense is pretty impregnable, which means defense plays never last very long.
(bottom) When I was in second year, we won the national championships. Here we are tossing our coach in the air in jubilation.