| | |
| --- | --- |
| | |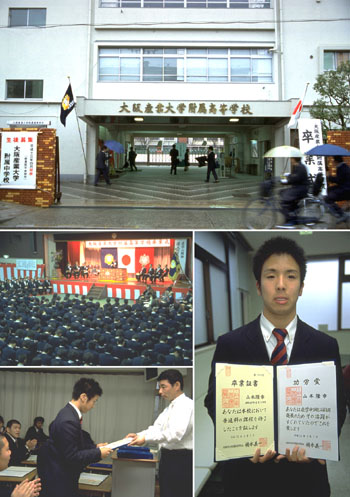 2月27日は卒業式でした。みんなと離れるのがつらかったです。何よりも仲間とアメフットができなくなるのがいちばんつらかった。
【上段】卒業式の日の正門。雨が降っていました。
【下段左】(上)卒業式。卒業生の代表が校長先生から卒業証書を受けとります。ほかに、卒業生のあいさつや、在校生、校長先生、来賓のお祝いのことばなどがありました。
(下)卒業式のあと、教室で1人ひとり卒業証書をもらいました。
【下段右】ぼくの卒業証書です。卒業証書のほかに皆勤賞、功労賞、成績優秀者賞などの賞状をもらいました。3年間無遅刻無欠席だと皆勤賞、3年間部活動を続けると功労賞がもらえます。


---
Our graduation ceremony was held on February 27. It was tough having to say goodbye to everyone. The hardest part is that I won't be able to play football with my buddies anymore.
[Top] The school's main gate on graduation day. It was a rainy day.
[Bottom left] (upper) The graduation ceremony. A representative of the graduating students receives her diploma from the school principal. A graduating student says a few words, and there are also some speeches by the principal, special guests, and a representative of the first- and second-year students.
(lower) After the ceremony, we go back to our homerooms and our teacher presents our individual diplomas.
[Bottom right] My high school diploma. In addition to my diploma, I received the perfect attendance prize, outstanding performance prize, and the prize for outstanding grades, and so on. The attendance prize is presented to those with perfect records of no latenesses and no absences during the whole three years of high school, and students who continue their club activities through three years all get the outstanding performance award.