黒板を消す

---

Cleaning the blackboard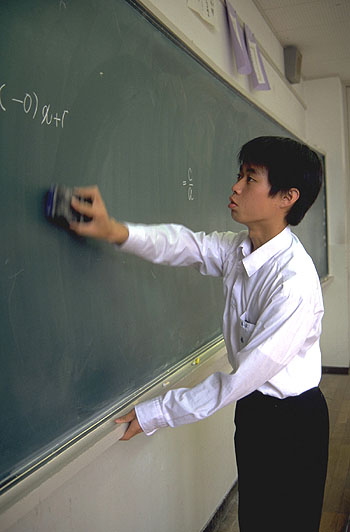 今日は日番(その日の当番)なので、授業が終わったあと黒板を消します。毎日生徒が交代で、当番をつとめるのが決まりです。
 日番のおもな仕事は、黒板を消すことと学級日誌をつけることです。学級日誌には、時間割と授業内容、それから1日のできごとを反省をまじえて書くのですが、なかには自分の日記のように個人的なことを書く人もいます。でも、担任の先生がまじめに答えたりするのでおかしいときがあります。夏の暑い日に冗談半分に「暑いので学校に来たくありません」と書いたりすると、先生が「学校に出てきたくない日もありますが、がんばって来てください」と答えたりするのです。


---
Today I'm nichiban (on duty), so after class, I clean the blackboard. The students take turns every day performing tasks like this.
The major responsibilities of the nichiban are to clean the blackboards and keep the gakkyu nisshi (class journal). The class journal is for keeping a record of the daily schedule of classes and content of the classes as well as for recording any special events or thoughts and reflections of the students. Some students write personal kinds of things they would write in their own diaries. The funny thing is that sometimes the teacher takes them seriously! For example, one hot summer day one person wrote, "It's so hot I don't want to come to school." The teacher very earnestly wrote, "There will be days when you don't want to come to school, but please do your best to come anyway."


写真をクリックすると大きい画像(A4プリントサイズ)を表示することができます。パスワードはTJF Photo Data Bank と同じです。
Click the photograph to view an enlarged version that can be printed on standard quality A4 paper ( 210mm x 296mm ). Please use the TJF Photo Data Bank Password. TJF Photo Data Bank.
Mizushima Yu | Oishi Kanta | Sakai Michi | Tamaki Shun'ichi | Yoshida Kojiro | Yamamoto Takayuk | Yoo Yoo Jin
Deai Home | Photos' Top | Teacher Support Information