部屋でくつろぐ

---

Relaxing in our room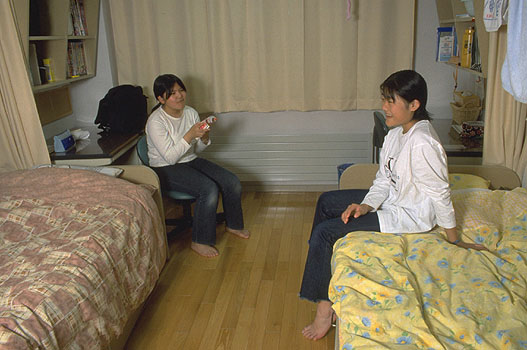 勉強が終わると、自分の部屋に戻ります。寮の友だちとの話題は、おもにマンガです。今、寮の友だちのあいだでは「時代もの」、とくに幕末のころを描いたマンガがちょっとした人気になっています。
 マンガ以外では、おいしいお菓子や音楽が話題になります。ルームメイトがよく聴いている曲は自然と覚えますが、歌える曲は少ないので、誘われないかぎりカラオケには行きません。
 わたしは音楽より本のほうが好きです。本はジャンルを問わず読みますが、星新一さんのショートショートは短い時間で読めるし、何回読んでもあきないので大好きです。
 10時45分になると、廊下の電気が消えて部屋から出ることは禁じられます。宿題や勉強が終わらないときは、遅くまで起きていることもあります。でも、次の日がつらいので、遅くとも12時には寝るようにしています。


---
When study hour is over, we go back to our rooms. What we mostly talk about is manga and related things. Right now, there is a kind of boom among the dorm students of manga on historical themes, especially the end-of-the Tokugawa period (mid-nineteenth century) manga.
We also talk about what sweets we like and our favorite music. I naturally learn the songs my roommate plays on her CD, but there aren't many songs I can sing, so I rarely go to karaoke unless I am expressly invited.
I myself prefer reading to listening to music. I read books of almost any genre, and I like the short-short stories by Hoshi Shin'ichi that you can read in a short amount of time and enjoy reading them over and over.
At 10:45 the lights go out in the corridors and we have to stay in our rooms after that. If we haven't finished our homework or other studies, we sometimes stay up late. I don't want to be sleepy the next day, so I always try to get to sleep by midnight.