| | |
| --- | --- |
| | |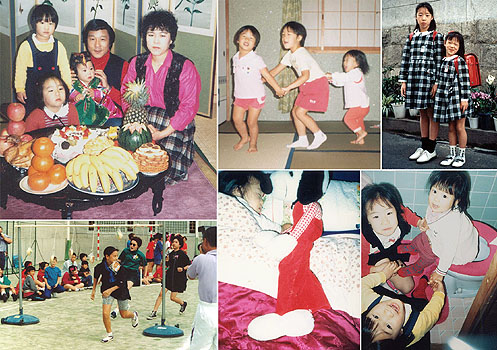 【上段左】わたしの1歳の誕生日。韓国では、子どもに華やかな民族衣装(チマ・チョゴリ)を着せ、豪華な料理を用意して、1歳の誕生日を祝うそうです。わたしの家でもそうしていました。
【上段中】1歳のころ。お姉ちゃんたちと遊んでいるところです。
【下段中】1歳のころ。寝るときには必ず、ハンカチを手に持ったり、ぬいぐるみを横に置いたりしていました。このスヌーピーのぬいぐるみは、いちばんのお気にいりでした。汚れて色が黒くなってしまってもずっと大切にしていました。幼稚園か小学校低学年のときに、お母さんに「汚いから捨てなさい」と言われて、しかたなく捨てました。
【下段右】1歳のころ。お姉ちゃんたちがわたしにトイレの使いかたを教えてくれているところです。
【上段右】小学校の入学式の日。初めてランドセルを背おって、とてもうれしかったのを覚えています。お母さんは、よくおそろいの服をわたしたち姉妹に買ってくれました。
【下段左】中学生のときの運動会。パン食い競走で1番になりました。


---
[Top left] My first birthday. In Korea, it is the custom to celebrate the first birthday by dressing the child in colorful chima and chogori and preparing a feast, and my parents observed this custom for me and my sisters.
[Top center] About one year old, playing with my sisters.
[Bottom center] Around one year old. When I went to sleep, I always clutched a handkerchief or kept a stuffed animal next to me. This Snoopy doll was my favorite. Even though it gradually got dirty and became quite dingy in color, I still treasured it for a long time. Sometime in kindergarten or in elementary school, my mother told me it was too dirty and I would have to throw it away, so finally I gave it up.
[Bottom right] This also is when I was one. My sisters were the ones who taught me to use the toilet.
[Top right] The day of the commencement ceremony for elementary school. I remember how happy I felt going off to school with my randoseru (school bag) on my back for the first time. Mother often dressed us girls in matching outfits.
[Bottom left] Sports Day at my junior high school. I came in first in the pankui kyoso, a race that ends by snatching a pastry hanging on a string in your teeth.