The Star Festival (Tanabata)
When We Wish Upon a Star
2013.07.09
July 7th was the Tanabata - or the Star-festival.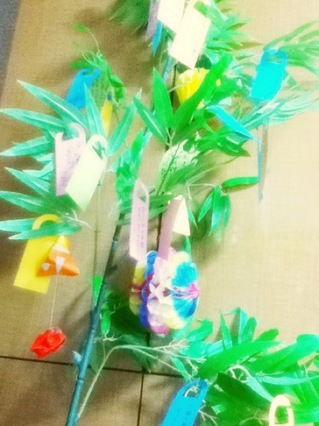 In Japan, people believe that star princess and prince - Orihime and Hikoboshi, meet once a year across the milky way.
We've seen Tanabata bamboo decorations here and there including shopping streets and nurseries.
Every year, we set up bamboo trees decorated with origamis and strips of papers on which we write our wishes.

I still treasure the nice memories of the time when I decorated bamboos with my friends at the nursery, or my last year in junior high school when one of my classmates brought bamboo tree to the class and we filled in the papers with wishes to pass the entrance exams for the high schools we wished to go.
This year at my house, we set up a bamboo (plastic, though) and wrote our wishes on the papers. I wished to the stars that my year abroad will be successful. My little brother wished that he would become a novelist when he grows up.
When children grow bigger, some houses may not put up Tanabata bamboos, but I noticed many of my friends "tweeted" Tanabata wishes on Twitter on July 7th. So, I suppose the tradition is still here in people's minds.
       
Author:Natsu

I am currently in my first year of university. I studied in Finland for one year when I was in high school! I love music, reading books, sports, nature, and communicating with people.
Relevant Categories