わたしのまち、横浜

---

My town: Yokohama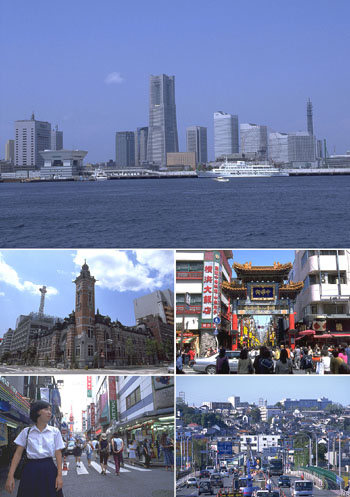 【上段】わたしの好きな場所のひとつ、みなとみらい21地区です。ビルが立ちならぶ近代的な雰囲気が好きです。これから、まだまだ発展していくでしょう。
【中段左】関内の官庁街です。ここも好きな場所のひとつです。関内周辺には、明治から昭和初期の時代に建設された洋館がたくさん残っていて、当時の雰囲気をあじわうことができます。
【中段右】横浜には中華街があります。中華料理の食材を扱うお店やレストランがひしめいています。
【下段左】横浜駅西口の商店街です。
【下段右】鶴見高校の近くを通っている幹線道路、国道1号線です。トラックがいっぱい走っています。横浜は京浜工業地帯の中心です。


---
[Top] This is the Minato Mirai 21 area, one of my favorite landscapes of Yokohama. I like the atmosphere of modernity of this cluster of new buildings. This is a place that is sure to go on developing and changing.
[Center left] This is part of the Kannai district, another of my favorite areas, a center of municipal government offices. With many old Western-style structures built from the Meiji era (1868-1912) to the early part of the Showa era (1926-89), it gives you a feel for the atmosphere of those days.
[Center right] Yokohama's Chukagai (China Town) is full of Chinese restaurants and stores selling ingredients for Chinese cooking.
[Bottom left] Shopping street at the west exit of the Yokohama railway station.
[Bottom right] The cross-country highway passing through here, very close to Tsurumi High School, is National Highway No.1. It's full of trucks. Yokohama is at the core of the Keihin (Tokyo-Yokohama) industrial belt.