大切なもの:アクセサリー、イヤーブック

---

Things I treasure: Accessories and yearbook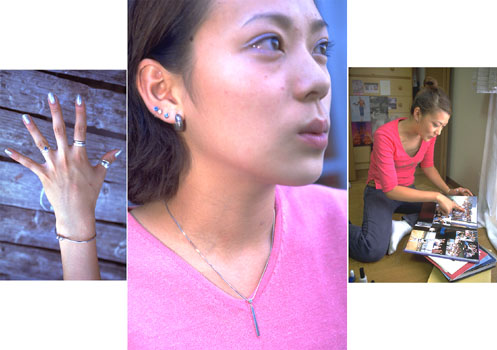 【左】ネックレス、ピアス、指輪、ブレスレットなど、アクセサリー類はわたしにとって大切なものです。
【中】18歳の誕生日の記念に両親からもらったプラチナのネックレスは、わたしの大切なお守りです。初めてピアスの穴をあけたのは16歳のときです。お母さんに絶対だめだと言われていましたが、ないしょであけました。すぐにバレて、「もうだめよ」と言われましたが、結局今では右耳に4つ、左耳に2つあけています。
【右】イヤーブック(写真集)を見ているところです。わたしの学校では、毎年イヤーブックをつくります。イヤーブックには全校生徒の顔写真や、行事、クラブ活動の写真などが載っています。Best Smile賞、Pretty賞に選ばれて、わたしの顔写真が載ったこともあります。Strongest賞にも選ばれたかったな。イヤーブックには、友だちのメッセージがいっぱい書きこんであります。


---
[Left] My necklaces, earrings, rings, bracelets, and other accessories are really precious to me.
[Center] The platinum necklace my parents bought me for my eighteenth birthday is my especially important good-luck charm. I got my ears pierced for the first time when I was 16. My mother had told me under no circumstances would she let me get my ears pierced, but I did it anyway, on the sly. Of course, she soon found out and told me "no more," but I went ahead. Now I have four pierces in my right ear and two in my left ear.
[Right] I'm looking at my high school yearbook. My school puts out a yearbook every year. It has pictures of all the students in the school and photos of events and club activities throughout the year. In the past, I've received the "Best Smile" prize and the "Pretty" prize in the yearbook. I wish I could have gotten the "Strongest" prize. My yearbook is filled with the messages of my friends.