| | |
| --- | --- |
| | |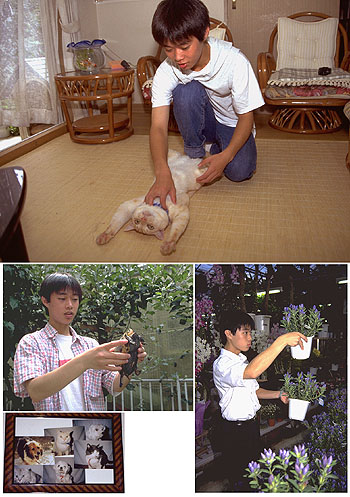 【上段】猫の名はブーニャン。生まれたときからぼくたちといっしょにいるので、自分を人間だと思っているようです。おだやかな性格なので、ブーニャンがいちばん好きです。金魚鉢に金魚がいたり、玄関近くの鳥かごにインコがいたりするのですが、ブーニャンはあまり興味がないようです。
【下段左】(上)陸亀のカメ代です。ぼくが11歳か12歳のときから飼っています。陸亀は、生態がおもしろそうなので、観察してみたいと思って、飼うことにしました。ほかにも3匹亀を飼っています。亀は無反応で無表情だと思っていましたが、動きがけっこう素早くて、見ていてあきません。
(下)部屋に飾ってあるぼくのかわいいペットたちの写真です。
【下段右】園芸店でリンドウの鉢植えを品さだめしています。ハーブ類や季節の花をよく買います。


---
[Top] This cat's name is Bunyan. She's been a member of the family since she was born, so she seems to think she is human. Bunyan is really gentle and easygoing, she is my favorite pet. There are goldfish in the fishbowl on the table and a parakeet in a cage in the entryway, but Bunyan doesn't show much interest in them.
[Bottom left] (upper) This is Kameyo, the tortoise. I've had him since I was about eleven or twelve. I got him because I was interested in tortoise behavior and wanted to observe a turtle up close. I have three other turtles. I had always thought tortoises were unresponsive and expressionless, but actually they move pretty quickly and I never get tired of watching them.
(lower) I've got pictures of our adorable pets on the wall of my room.
[Bottom right] Here I am choosing a pot of gentians at the flower and garden shop. I often stop by to buy potted herbs and seasonal flowers.