三線の授業をうける

---

Attending sanshin class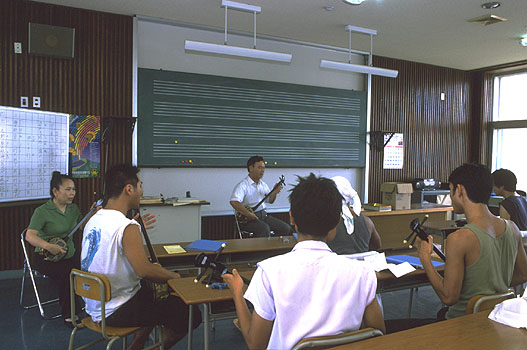 三線の授業は、郷土文化コースの選択科目のひとつです。三線、琉球舞踊、琉球空手のなかから、どれかひとつを選択します。ぼくは1年生のときから三線を習ってきました。クラス担任の濱元先生が教えてくれます。今は、教育実習の先生が来ていて、ときどき濱元先生にかわって教えてくれます。これまでに古典の曲を30〜40曲ほど習いました。
 三線は、ちゃんと勉強したいと思って、まじめに取りくんできました。この学校に来て初めて習ったのですが、一生懸命練習して、2年生のときには、ぼくが習っている安富祖流のコンクールで新人賞を受賞しました。ぼくは、心のなかに自然と入ってくる三線の柔らかい音が好きです。自分の曲でもよく三線を使います。
 古典の曲は、静かで最初はおもしろくなさそうだと思うものほど、あとで好きになります。弾くにつれ、歌うにつれ、だんだん味が出てきて、そのよさがわかってくるのです。ぼくは、つくった人のあたたかくて優しい人柄が伝わってくる曲が好きです。そういう曲を聴くと気持ちが落ちつきます。逆に、テンポの速い三線の曲を聴くと、小さいころからなじみのある祭りを思いだして血がさわぎます。


---
Sanshin is one of the elective subjects in the Local Culture course. Students choose one of three electives: Sanshin, Ryukyu dance (Okinawan dance), or Ryukyu karate (Okinawan karate). I've been learning the sanshin since first year. Our homeroom teacher, Hamamoto-sensei, teaches us sanshin. At the moment we also have a trainee teacher who sometimes takes the class instead of Hamamoto-sensei. So far we've learned about thirty or forty classical songs.
I've been putting a lot of effort into this class, because I want to learn the instrument properly. I hadn't practiced sanshin before coming to this school, but once here I practiced hard and in second year I won a prize for newcomers in the Afuso-style music competition. Afuso is one of the styles of classical Okinawan music and the one I've been learning. I like the mellow sound of the sanshin; it just naturally hits the right chord in me. I use the sanshin a lot for my own songs, too.
Some of the classical songs we learn are not that appealing, but I often find that the more uninteresting they seem at first, the more I come to like them later. As you keep playing and singing them, you gradually get a feel for them and appreciate their true value. I like the kind of song that conveys the warm, gentle nature of the person who wrote it. Listening to songs like that relaxes me. On the other hand, fast-tempo sanshin songs get me hyped up, and remind me of the old familiar festivals I enjoyed since I was little.