| | |
| --- | --- |
| | |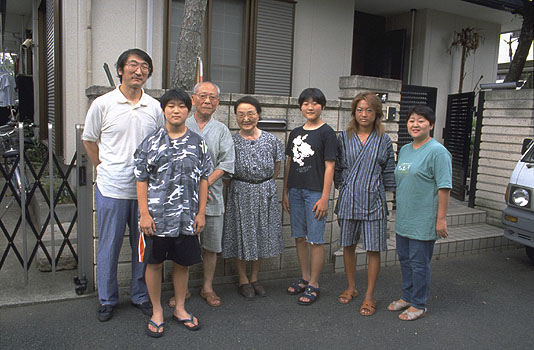 左から、お父さん(宗一、46歳)、妹(憲子、14歳)、おじいちゃん(良三、81歳)、おばあちゃん(テイ、78歳)、わたし、お姉ちゃん(繭子、18歳)、お母さん(盟子、42歳)。自宅は2世帯住宅で、2階にはおじいちゃんとおばあちゃん、1階にはわたしたちが住んでいます。
 おじいちゃんは、落語とダジャレが大好きです。たまに落語を教えてもらいます。戦前や戦中の話もいろいろと聞かせてくれます。実際に体験した人からその体験談を聞くのは、教科書とは違っていい勉強になります。
 おばあちゃんは、家事すべてにおいて一流です。料理も裁縫も編みものも庭の手いれも何でもこなします。おばあちゃんの料理は何でも好きです。
 わたしは学校から帰ってきて時間があると、おじいちゃんとおばあちゃんの部屋に行っていました。人生の先輩である2人から教えてもらったことが山ほどあります。
 わたしたち姉妹はみんな性格も好みも違います。芸術性や創造性に優れているのがお姉ちゃんです。小さいころから絵が上手で、うらやましく思っていました。それから、わたしとは違っておしゃれにはうるさくて、外出するときにはバッチリ着飾ります。
 妹は年が近いのでよく遊びましたが、けんかもしょっちゅうしていました。勉強を教えても「教えかたが悪い」と文句を言ったりします。「授業の中で何が好き?」と聞いたら、「体育と給食と休み時間」と答えるような元気者です。小憎らしいけど、かわいい妹です。


---
From left, my father (Soichi, 46), younger sister (Noriko, 14), grandfather (Ryozo, 81), grandmother (Tei, 78), myself, my older sister (Mayuko, 18), and my mother (Meiko, 42). We live in a two-story house, with my grandparents' place occupying the second floor, and my parents and we kids on the first floor.
My grandfather loves rakugo, a traditional form of storytelling, and dajare (corny jokes). Sometimes he tries to teach me rakugo. He also tells us stories about the days before and during World War II. When you hear stories like that from a person who actually experienced it, you learn something completely different from what you find in textbooks.
My grandmother is first-class in everything that has to do with keeping house. She does everything--cooking, sewing, knitting, gardening--to perfection. I love everything my grandmother cooks.
Whatever time I had after coming home from school when I was younger, I would often spend up in my grandparents' rooms. They have lived a lot longer than we have and what they have taught me is really tremendous.
We three sisters are all completely different in our character and in preferences. My older sister is the artist and the creative one among us. She was always really good at drawing, a talent I always envied. Quite unlike me, she is particular about how she dresses. Whenever she goes out, she always looks really nice.
My younger sister and I are close in age so we often played together, and we also often quarreled. If I tried to help her with her studies she would complain that I didn't know how to teach. She is full of energy. If you ask her which of her classes she likes best, she will tell you "phys. ed., lunch hour, and recess." She sometimes says cheeky things, but she is very dear to me.