説明を聞きながらプリントを見る

---

Reading a hand-out while listening to the explanation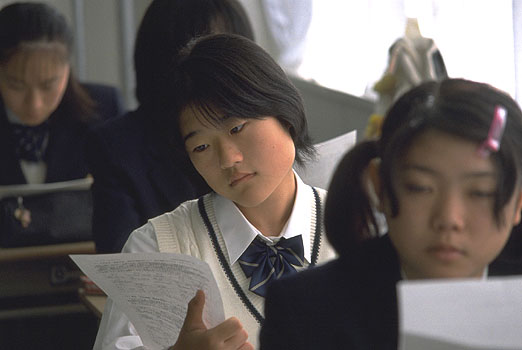 授業中に配付されたプリントを見ているところです。わたしはいつもまじめに授業に取りくみます。
 わたしの好きな科目は国語です。教科書に載っている小説やエッセイなどで、興味をもったものは原本を買って読んだりします。いちばん興味があるのはもちろん生物です。苦手なのは英語と数学です。
 獣医学を学べる大学に進学したいので、受験科目の5教科(国語、数学、理科、英語、社会)はまんべんなく勉強しなければなりません。でも、2年生になったら、その5教科以外に、選択科目のなかから食品製造をとりたいと思っています。食品製造の授業では、実際にバターやヨーグルトなどをつくるので、おいしいだろうなあと思うからです。


---
Here I am looking over the hand-out the teacher gave us. I always take classroom work seriously.
The class I like the most is Japanese class. When a story or essay in our textbook happens to catch my interest, I like to go and buy the original book from which it was excerpted. But what I find really interesting is biology class. English and math are my weak subjects.
Since I want to go to a university that offers a course in veterinary medicine, I have to be thoroughly familiar with five different exam subjects: Japanese, math, science, English, and social studies. When I get into second year, while I have to take these five subjects, I also want to take the elective course in food product manufacture. It sounds like we can enjoy some good things because the students in the class actually make butter, yogurt, and other food products.