演劇部の活動

---

Drama club activities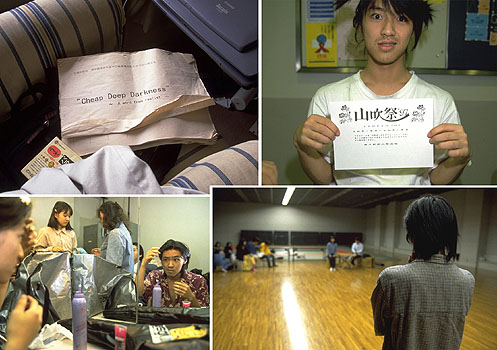 【上段左】自分で書いた脚本です。闇をテーマにした作品で、『Cheap Deep Darkness』というタイトルは語呂がいいのでつけました。ストーリーがあってないような作品で、自分では前衛的だと思っています。
【上段右】学校の文化祭のチラシです。演劇部も劇を上演します。
【下段左】定時制高校の演劇大会の本番前。本番前はあまり緊張しませんが、舞台に上がって、幕が開くと緊張します。
【下段右】体育館での練習風景。10月にある東京都の全日制高校の演劇大会に向けて、テスト休みを利用して、朝から夜まで練習に励みました。ぼくは演出を担当しました。


---
[Top left] This is a script I wrote myself. Entitled "Cheap Deep Darkness," the theme is "yami," or darkness. I chose the title for the sound of the words. It's a kind of a story-without-a real-story sort of play--I like to call it avant garde.
[Top right] Here is the flier advertising our school culture festival. Our drama club put on a play for the festival.
[Bottom left] Before our turn to perform at the part-time high school drama club festival. I don't get tense before a play begins, but as soon as I go out on stage and the curtain goes up, I get nervous.
[Bottom right] Here we are in the gymnasium rehearsing a play. In preparation for an all-Tokyo high school drama club festival held in October, we took advantage of the extra days off after big exams to practice from morning to night. I was in charge of stage direction.