| | |
| --- | --- |
| | |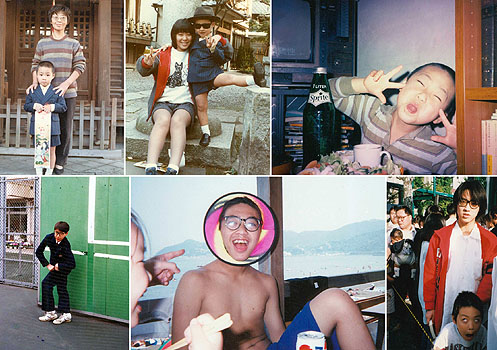 【上段左】5歳のころ。家の近所の神社に七五三のお参りに行きました。
【上段中】5歳のころ。七五三のお祝いなので、貸し衣装を着ておめかししました。隣に座っているのは2番めの姉です。
【上段右】5歳か6歳の誕生日。家でお祝いをしてもらいました。
【下段左】小学校の卒業式。貸し衣装を着て卒業式に出席しました。
【下段中】中学2年生の夏に、家族で海へ遊びに行きました。まんなかに穴のあいたフリスビーに顔を突っこんでいるところです。
【下段右】高校2年生のころ。家族で東京ディズニーランドに出かけました。乗りものに乗るために列に並んで待っているところです。


---
[Top left] About five. Visiting the shrine in our neighborhood to pray for good health according to the custom of Shichi-go-san, a special celebration for children who have attained the ages of three, five, or seven.
[Top center] About five. To celebrate Shichi-go-san, my mother rented a formal suit and dressed me up for the picture. Sitting next to me is my second eldest sister.
[Top right] On my fifth or sixth birthday, my family held a party for me at home.
[Bottom left] Graduation from elementary school. I wore a formal rented suit for the graduation ceremony.
[Bottom center] In the summer of my second year of junior high school, I went with my family to the ocean. I've stuck my face into a frisbee with the center cut out.
[Bottom right] Second year of high school. I went with my family to Tokyo Disneyland. Here we are waiting in line for one of the rides.