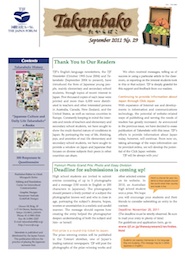 Thank You to Our Readers
Since 2004, TJF published Takarabako four times a year. Copies of each issue were mailed to more than 4,000 teachers in Australia, Canada, New Zealand, the United States, and European countries engaged in teaching Japanese and education for understanding Japan. Publication of this newsletter has now ceased.
 The final issue, No. 29 looks back over the wealth of images and text published in past issues. The Japanese Culture Now series are being compiled in three e-book volumes as the Japanese Culture and Daily Life Takarabako. We hope you will enjoy and make use of these resources.
How to Get the e-Books

Those who register to receive the Click Japan email newsletter will be sent the URL to access the Japanese Culture and Daily Life Takarabako e-books. To register for the email newsletter, go to http://link.tjf.or.jp/MMCJP. The first of the three volumes is now available.