vol.4
Copying the Idols
Sophia University's Copy Dance Club, SPH mellmuse members Miamia (Faculty of Law, 3rd year) Reika (Faculty of Foreign Studies), 3rd year)
2018.04.08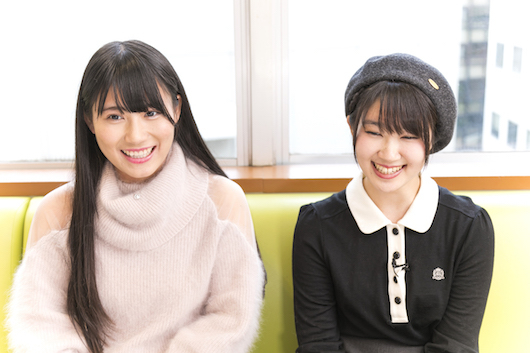 Miamia (left) and Reika (right)
©Ichiki Tomohisa
To the rallying call, "For one night only, ordinary university student girls take to the stage as pop idols," the UNIDOL competitions began in 2012. These events, where university clubs compete in dance performances copied from the musical numbers of popular girl idols, have come to draw audiences of as many as 3,500 for the final competition alone. Two members of the Sophia University club, SPH mellmuse, who love idols and love to dance, describe how they joined the club, their enthusiasm for the competition, love of pop-singer idols, and what membership in the club has meant to them.
---
Aiming for No. 1 in the UNIDOL Competition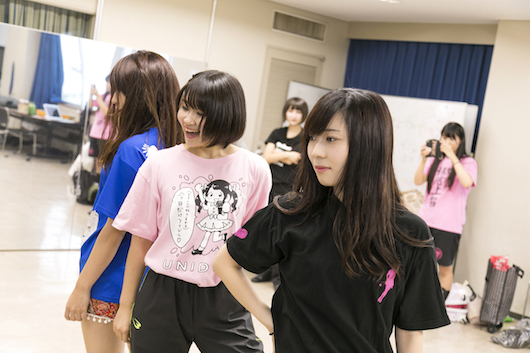 ©Ichiki Tomohisa
Q:Please tell us how the SPH mellmuse club came into being and what its main activities are.
Miamia:The Sophia club was started in 2010. Those were the days when the "maid cafés" of Akihabara were so big, right? So at the university's Bunka Sai culture festival, a group of students opened a "maid cafe" where they would put on an AKB48 copy dance just for the fun of it. That might have been the end of it, but the dancing turned out to be so popular and bring in so much money for the students who did it, that it spun out to a group called SPH48, the predecessor of SPH mellmuse.
 Then one of the founding members proposed that they stage a copy dance event with other universities, and that led to the start in 2012 of UNIDOL, a kind of varsity competition for the best university girl "idol group" in Japan. So, actually, the UNIDOL boom got its start with SPH!
 Today mellmuse has 30 members. There are about 15 core members, and we mainly enter the UNIDOL competitions twice a year but also give performances at various events almost every week.
Reika:We've started to be invited to perform at the Bunkasai festivals of other universities and suddenly we're getting many more requests from outside the university, so we're pretty busy (laughs). We form "units" of members who can schedule for specific events and then come up with a program and then practice. Of course, we have different costumes every time. Since our ultimate goal is winning at UNIDOL, we try to make our performances at events double as practice toward winning at the national competition.
Q:So winning at UNIDOL is your ultimate goal. What do you specifically do toward that?
Miamia:The UNIDOL area qualifying contests are in June and December and the finals are in August and February. SPH has been able to perform at all the final competitions since the first convention, and we took first place in the summer 2014 competition. By now there are more than 40 teams competing from around the country, and about 20,000 people converge for the event. The competition is much stiffer now. So, of course we're always trying to improve our skills so as to show our best at UNIDOL.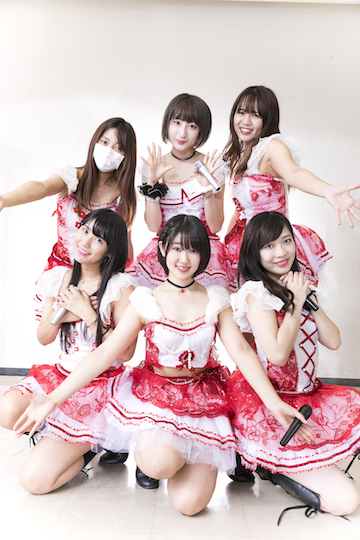 ©Ichiki Tomohisa
Enjoying the Way the Idols Change and Grow
Q:What was the reason that each of you joined the club?
Miamia:Since I was in high school, I've always liked chika-aidoru--the "underground" idols performing at small-scale live concerts--as well as voice actresses. My hobby was copying dance routines. So, when I passed the exam to Sophia University, the first thing I did was to look for a club where I could pursue my interests, and that's when I discovered SPH mellmuse. I'd made up my mind to join even before commencement and had started to follow the club's activities on Twitter and YouTube. I, like, made straight for it! (laughs)
Reika: I was doing cheerleading dance in high school, and I had hoped to continue that in university, but then I found out that Sophia University doesn't have a cheerleading dance club. I wanted to be able to dance, so I chose SPH mellmuse. I may not be as passionate about idols as Miamia, but I like them.
Q:What is it that appeals to you about idols?
Miamia:What I just love is the girls that are kawaii. I have a friend who's crazy about the Johnnys, but that's not for me. What's appealing about the chika-aidoru who sing at small live concerts is that when you first see them they're not very good at either singing or dancing, but then you can follow them and see how quickly they get better. It's watching them grow like that that makes me so fond of them. I'm just one of their otaku, a fan who follows them and their activities.
Reika:In my case, when I was in second-year of junior high I saw NMB48 member Yamamoto Sayaka on late-night television and fell in love with her. She's really popular today, and I've seen how she shines more and more since that time. Since joining SPH, I've been really enjoying the idol groups formed under "Hello! Project," and among them "Juice=Juice" is my favorite--I especially like their performances.
Miamia:Right now Itayama Saori of Luce Twinkle Wink is my favorite. The huge effort she puts into her performances really stands out--she's a hard worker, but of course she doesn't show that on stage. She's always smiling, sending out energy to her fans . . . that's what really appeals to me.
 She's the kind of person who, you know--I could never be like her--but if I were born again I'd want to be her. Plus . . . it makes me so happy to watch her just keep going and growing. That's the otaku I am, yes!
Reika:I love cute girls, too, but for me, it's also their voices that I pay attention to. Their poise and dancing, too, is pretty important to me. When there's an idol that I intuitively know has the right overall image, I follow her faithfully. When I find one--I think, oh, I really like the way she dances!--then I always try to copy that in my own dancing.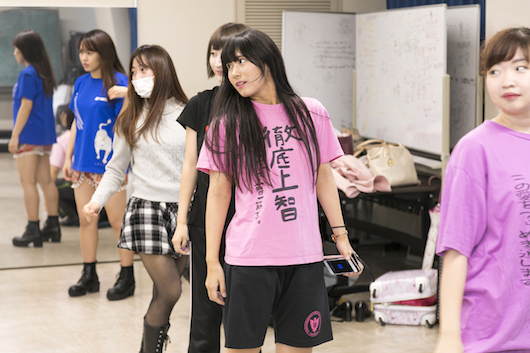 ©Ichiki Tomohisa
Q:How do idols dance that is different from other kinds of dancing?
Reika:Idol dance is different from cheerleading dancing, hip-hop, and such--it's a completely different genre. I think a lot of thought is put into the choreography.
Miamia:They pay close attention to how the dancing is seen from the audience. Sometimes they even insert odd or unusual steps on purpose, and they contrive ways to build up the involvement of the audience and draw them into the excitement of the performance.
Reika:You can really see some of those odd steps in the Morning Musume performances--like no human being would naturally make moves like that (laughs). They're appealing and very cool.
Miamia:I think idol dancing emphasizes the individuality of the dancers. When dancing in a large group, it's important for the dancing to be coordinated, but to be able to dance together without obliterating each person's individual character--that's a big source of motivation. Because the individual character of everyone is what makes the whole better--that's why we consider individuality important, too.
Regular Pre-UNIDOL "Quality Judgment"
©Ichiki Tomohisa
Q:What are some of the other qualities that you think distinguish SPH from other clubs?
Miamia:One thing is our strong links with older or former senpai members of the club. In the lead-up to UNIDOL, we have some of them come do a kind of "quality judgment" (shitsu saiban) of our performance to see if it is strong enough to win first prize--we call it "dame-dashi"--where they point out what we've got wrong. That is a strength we can draw on because the club has been going for several years.
Reika:Four senpai come every time for these sessions. It's depressing when something wrong is pointed out (laughs), but we have to accept their advice. We see what they mean and then work to improve.
Q:What are some of the most memorable things about your activities with the club?
Miamia:Oh, there are all sorts of things, but for me, it was the winter UNIDOL when I was a freshman. We had only just the exact number of members required to participate in the competition and we all had a strong awareness that each one of us was indispensable, and I think that was the time we all worked the hardest to do well. We only got second prize that time, but it was the most memorable for me--I don't think we ever did a better performance than we did then. I still vividly remember how delighted we were to win the prize, and how disappointed not to get first prize.
 In competitions after that, we have had the strength of greater numbers, but I think we have suffered because it's harder to build up everyone's motivation to the same degree as we were able to do back then. It's always difficult, because the priority of the club is different for each individual.
Reika:That winter UNIDOL experience was the most memorable for me as well. I had entered Sophia as a freshman from the fall term, so it was my first UNIDOL. For the area qualifying contests I just took part as told by the senpai, but for the finals, I was made responsible for the program for the first time. I had the important job of figuring out where to place the dancers and who would dance what steps. I had also been chosen to be one of the performing dancers, so I was always worried and under stress. Even though I had lots of help from older students, I had the bitter experience of various mistakes, but I think I did improve my dancing, so it was a really good experience.
Our SPH Mellmuse Time and Where It Will Take Us
Q:Do you think you have changed as a result of being in the SPH mellmuse club?
Miamia: I do think that I grew as a person. Through high school, I pretty much did things the way our teachers taught us, but when you join a university club, you are working with and learning from mainly other students of about the same age, so there is much more you can do. And in a club there are members with all different ways of thinking, family situations, and so on, and we have to deal with all sorts of people--it's a kind of like society at large on a small scale. I do think it's important before graduation to learn how to do things on your own initiative in that kind of environment; it helps when you go out to work in society as an adult. I had the chance to serve as club president once and got a lot of other experience, and that taught me a lot about taking initiative and getting things done.
 Through high school, I was always just studying to get good grades, and I didn't really have anything else in which I could shine. So I'm really glad I found this way of pursuing something I can be proud of and that is so much fun for me. My family members and friends often remark on how I seem to be enjoying myself!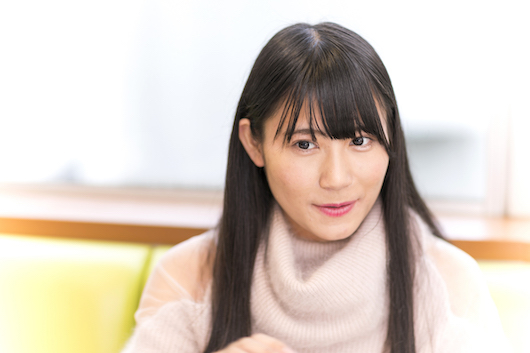 ©Ichiki Tomohisa
Reika:I did pursue my hobby of cheerleading dance through junior and senior high school, but we always just followed the guidance of our coach, and I was never one of those who spoke up or took initiative. I kept my head down and always tried to find a place at the back, out of sight, in the dancing. After joining SPH mellmuse, though, I couldn't be playing the shy one all the time! (laughs) I suddenly found myself doing things I would never have done before. The older students recognized my ability from that earlier experience with dancing, and that was how I ended up being put in charge of the program.
Miamia:Ever since she joined the club, we've always been sure that Reika would soon become an ace dancer. She is a good dancer, and she has the right "aura."
Reika:But actually, by nature I'm no good at "performing." Pretending to sing or doing the poses and the beaming smiles was always so embarrassing, I never thought I could do it. But somehow, one day during practice I had a break-through. I realized that if I kept on being so bashful while performing, the audience was probably going to think "why do we have to watch this?" So I was just keeping the whole group from doing its best. Once I saw that, it seemed like I could really dance better, and even the older students were impressed and praised me. I think I was able to break out of my self-imposed shell, and I felt that I could create something by being part of the group.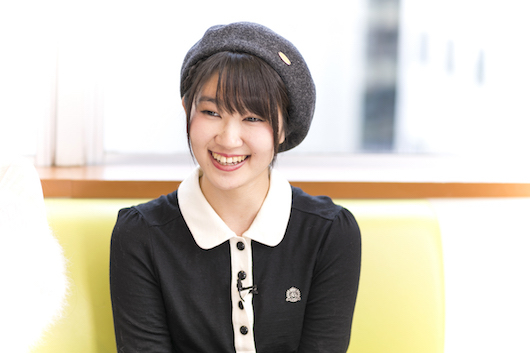 ©Ichiki Tomohisa
Idol Dancing as "Limited Offer" Pursuit
Q:What are your thoughts about the future?
Miamia:I am quite sure that my time absorbed in my SPH activities over the four years at university will stand me in good stead in my future. I'll always remember the advice I received and the experience I gained and look back with gratitude on those days. I'm not planning to continue these activities after graduating, but they were a wonderful way of adding fun and adventure to these years at university.
Reika:I'm also really happy with what we have been doing, and still thinking about where it will take me. I learned a lot about the culture of popular idols in Japan while a member of SPH, and I've begun to want to introduce this aspect of Japanese culture to people of other countries. It may be the influence of my one-month study abroad in England last September. Most people overseas seem to associate "Japanese culture" with "bowing" or "samurai" and such things. The "Japanese culture" that people like me know best--anime, manga, the culture of idols, and so on--isn't very well known overseas yet. I'd like to help communicate a proper appreciation of our distinctively Japanese "idol culture," which is aimed at supporting people who are striving to improve their singing and dancing.
【Interview: October 2017】
Compiled by Inoue Masae