Now Tomo-choco (Friendship Chocolate) is "In"
2013.02.20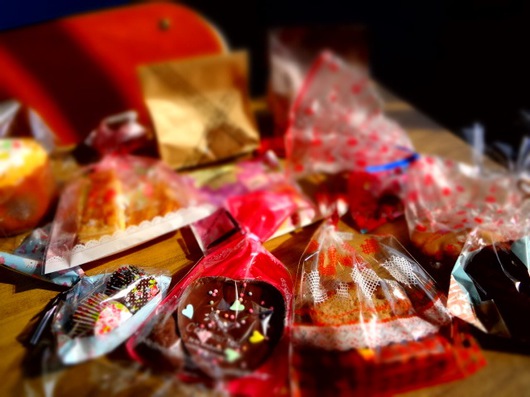 February 14th was the St. Valentine's Day.

Up until few years ago, it was common among girls to give chocolates to boys to express their feelings. But now "tomo-choco (friendship chocolate)" is "in" meaning that girls exchange hand-made chocolates among girl-friends.
I've been making chocolates for my friends since I was in 4th grade in primary school.

Actually, it is not just chocolate that we exchange. We give cookies, donuts, cupcakes or brownies and they are mostly handmade.

For this year's Valentines Day, I baked more than 100 cookies (smile) to give to my friends, senior members of my club, classmates... total of 48 people and received sweets from about 45 people!!

Everybody decorates their sweets in pretty wrappings. St. Valentine's Day is one of my favorite events since I love food.