Manga: Japan's Favorite Entertainment Media
Japanese pop culture, in the form of anime, manga, and computer games, has increasingly attracted attention worldwide over the last several years. Not just a small number of enthusiasts but people in general have begun to appreciate the enjoyment and sophistication of Japanese pop culture. This installment of "Japanese Culture Now" features manga, Japanese comics.
Characteristics of Japanese Comics
1) The mainstream is story manga
The mainstream of manga in Japan today is "story manga" that have clear narrative storylines and pictures dividing the pages into frames containing dialogue, onomatopoeia "sound" effects, and other text. Reading through the frames, the reader experiences the sense of watching a movie.
2) Not limited to children
Manga magazines published in Japan generally target certain age or other groups, as in the case of boys' or girls' manga magazines (shonen/shojo manga zasshi), which are read mainly by elementary and junior high school students, and "young people's" magazines (seinen-shi) for senior high school students and older young people.
3) Wide variety of themes
In the range of their themes and depth of drama, manga are as diverse as the cinema or printed fiction, everything from romance, sports, action, business, government, economy, medicine, science fiction, and fantasy to history, daily life, child rearing, animals, and much more.
4) Emphasis on characters
The popularity of a manga work depends on the main character(s). Many manga are designed to make readers reflect on a given theme by identifying with the characters.
5) Publication in book form after magazine serialization
A typical manga magazine consists of over 20 installments, each between 10 and 20 pages in length. These stories are later published in book form. Manga stories are rarely created from the outset for publication as a book.
A typical weekly boys' manga magazine has 500 pages per issue and is sold for 250 yen. The covers and the first 10 or so pages are in color, all the rest in black and white. The photo shows three of the most popular weekly manga magazines.
Shukan shonen jampu
[Weekly Boys' Jump]
Shukan shonen magajin
[Weekly Boys' Magazine]
Shukan shonen sande
[Weekly Boys' Sunday]
© SHUEISHA
© KODANSHA
© SHOGAKUKAN
Chronology of Postwar Japanese Manga
1940s

Manga for rent at kashihon'ya (small-scale book-lending shops) win popularity

Publication of Shin Takarajima [New Treasure Island] by Tezuka Osamu, birth of full-fledged story manga (1947)

1950s

Monthly manga magazines published

Inauguration of weekly manga magazines, Shukan shonen sande and Shukan shonen magajin (1959)

1960s

Spread of manga reading to university students

Popularity of "supo-kon manga" featuring sports (supotsu) and a never-give-up spirit (konjo)

1970s

All manga magazines suffer deficits due to paper shortage and steep rise of paper costs caused by oil crisis (1973)

First Comic Market held (1975)

1980s

"Rabu-kome" (love and comedy) manga boom

Manga Nihon keizai nyumon [Introduction to Japanese Economics in Manga] a great hit and information- and study-oriented manga draw attention (1986)

Circulation of young people's manga magazines surpasses that of boys' manga magazines for the first time (1989)

1990s

"Harmful comics" (yugai komikku, or the manga containing excessively explicit sex and violence) become controversial

The weekly manga magazine, Shukan shonen jampu, achieves record circulation of 6.53 million copies in manga history (1995)

2000s

Sales of manga books surpasses that of manga magazines for the first time (2005)

Online manga distribution via the Internet and cell phones begins
Tezuka Osamu, Founder of Story Manga
Tezuka Osamu laid the foundations for the modern manga genre in postwar Japan. Shin Takarajima [New Treasure Island], which was published in 1947 when Tezuka was still a 19-year-old medical student, became a best-seller, with 400,000 copies sold. This work introduced the cinematic techniques he adopted including multi-angle shots, panning, and close-ups. Manga using such cinematic effects came to be called story manga and story manga later became the most common form of comics in Japan.
Tezuka's stories were more than entertainment, giving readers high drama revolving around characters with complex personalities. Some of his stories end in tragedy, reminding us of the transience of life and the material world. He remained active as an artist until his death in 1989 at age 61. He not only produced Tetsuwan Atomu [Astro Boy] and many other story manga series but also was a pioneer in the field of anime. His manga have had tremendous influence on many of the people who are now leaders in various fields, not only manga, painting and other fields of the arts, but also medicine, technology, and the sciences. He is now revered as the "god of manga."
Tetsuwan Atomu
[Mighty Atom, Astro Boy]

The story of a kindhearted boy robot who fights for peace. The series started in 1951. It was made into Japan's first TV animation film (black and white) in 1963.

© TEZUKA PRODUCTIONS / KODANSHA

Hi no tori [The Phoenix]

Tezuka's life work. He began this series in 1954 and continued it until his death in 1989. The reader witnesses the grand drama of humankind, traveling back and forth in time between the present, past, and future.


© TEZUKA PRODUCTIONS / KODANSHA

Burakku Jakku
[Black Jack]

Stars the unlicensed surgical genius, Black Jack, depicting
the preciousness and transience of life and the sinful karma of human beings.
Serialized from 1973 to 1978.

© TEZUKA PRODUCTIONS / KODANSHA
Birth of Weekly Manga Magazines and the Supo-kon Manga Era
With the inauguration of boys' manga magazines, Shukan shonen sande and Shukan shonen magajin in 1959, manga became more popular among children than ever. When these children became college students in the latter half of the 1960s they came under a strong influence of supo-kon (the "sports and never-give-up spirit") genre of manga, examples of which are Ashita no Jo [Tomorrow's Joe; story of a young boxer] and Kyojin no hoshi [Star of the Giants; story of a star baseball pitcher], whose heroes trained very hard, displayed unyielding tenacity, and defeated even the toughest rivals. Manga were still considered a media for children in those days and college students who read manga became the object of criticism.
Sports manga have continued to be popular, even today. Among the best-known in the 1990s were Suramu danku [Slam Dunk; featuring a basketball star] and Kyaputen Tsubasa [Captain Tsubasa; a football/soccer hero], and more recent works include Tenisu no oji-sama [The Prince of Tennis] and Okiku furikabutte [Raise the Ball High; baseball].
Kyojin no hoshi



© Ikki Kajiwara / Noboru Kawasaki / KODANSHA

Ashita no Jo



© Asao Takamori / Tetsuya Chiba / KODANSHA

Okiku furikabutte



© Asa Higuchi / KODANSHA

Tenisu no Oji-sama



© Takeshi Konomi / SHUEISHA
The "Rabu-kome" Boom
The late 1970s to the mid-1980s was the era of the rabu-kome (love and comedy) manga. The stories are often set in junior or senior high schools, depicting adolescent love between the main male and female characters and the misunderstandings and dislocations that get in the way of their relationships. In the love-comedy manga stories, romance is invariably set against the backdrop of often-slapstick events involving the protagonists and other characters, and priority is given to a balance between the elements of serious drama and comedy. Some works of this type were animated for television and enjoyed immense popularity, including Urusei yatsura [Noisy People / Uru-planet People], Mezon Ikkoku [Maison Ikkoku], Tatchi [Touch], and Miyuki [Miyuki].
Among more recent popular works are Rabu Hina [Love Hina], a slapstick comedy about a high school graduate aspiring to enter the University of Tokyo who turns out to be the janitor of a girls dormitory, and Maho sensei Negi ma! [Wizard Tutor Negi] about a 10-year-old boy aspiring to be an expert wizard who is assigned to teach a class of 31 junior high school girls.
Urusei Yatsura



© Rumiko Takahashi / SHOGAKUKAN

Tatchi



© Mitsuru Adachi / SHOGAKUKAN

Rabu Hina



© Ken Akamatsu / KODANSHA

Maho sensei Negi ma!



© Ken Akamatsu / KODANSHA
The World of Girls' Manga
Girls' manga (shojo manga) stories deal mainly with love and are usually produced by female writers and designed for a female readership. Whereas in manga for men, the stories generally proceed in linear fashion from one frame to the next, girls' manga exhibit techniques such as no frames or drawing across frames. Other features include backgrounds covered with elaborate floral patterns and characters with big round eyes sparkling with stars.
In the 1970s Hagio Moto, Takemiya Keiko, and other cartoonists expanded the scope of girls' manga with stories based on science fiction, fantasy, and romantic love between boys. Today, girls' manga handle even more diverse themes and some works attract many male readers, making them increasingly difficult to categorize under the "girls' manga" genre. Among works currently drawing attention are Nana, a story of friendship and love between two girls both named Nana, Hachimitsu to kuroba [Honey and Clover] about the youth/romantic experiences of a university art student, and Hataraki man [Working Men] about the working life as seen by a female editor. Made into animated television series or movies, they enjoy increasing popularity.
Nana



© Ai Yazawa / SHUEISHA

Hachimitsu to kuroba



© Chica Umino / SHUEISHA

Hataraki man



© Moyoco Anno / KODANSHA
Trend-setting Manga
Various trends have been set in motion in Japan as a result of publication of certain manga. For instance, Nodame kantabire [Nodame Cantabile], a comedy manga set at a music college centering around a male orchestra conductor and a female pianist, created a classical music craze after it was dramatized on television and broadcast October through December 2006. It was originally published in 2001 as a serial manga in Kiss, a manga magazine targeting mainly women in their twenties and thirties. Nodame kantabire was a popular manga from its first serialization,
but after it was made into a TV drama, the 18-volume book edition sold a total of 22 million copies. A CD collection of the classic compositions that were topical in the drama sold an impressive 400,000 copies, extraordinary for a classic music CD, which is usually considered a big hit if 10,000 copies are sold.
The copyright business for character goods, games, and other products that use the characters appearing in the manga is increasing earnings year after year.
Nodame kantabire



© Tomoko Ninomiya / KODANSHA
Changing Manga Industry
According to the Dentsu Communication Institute "White Paper on Information Media 2003," the value of the Japanese manga market peaked in 1994 at 586.4 billion yen (combined sales of books and magazines) and has been on a decline since. With the diversification of entertainment media brought about by the advent of cell phones, computer games, and the Internet in the 1990s, people seem to be spending less money on manga. In 2005, the sales of manga books exceeded those of manga magazines for the first time. Digital distribution of manga via computer and cell phone has been rapidly growing in recent years, as has the copyright business for manga content.
A new phenomenon in which manga stories made available first on the Internet win popularity and are then published in book form and become bestsellers is currently gaining momentum. Examples are Kyo no Nekomura-san [Ms. Nekomura Today], the story of a cat named Ms. Nekomura, who works as a housemaid, and Boku otariiman
[I Am an Otaryman] about the daily life of a systems engineer salaryman who is an otaku (hardcore aficinado). These manga have sold 900,000 and 300,000 copies respectively. Without going through the usual process of magazine serialization first, and created by virtually nameless authors, such works have been a great hit. The manga world is entering a new era.
Internet-published manga have their own websites. For Nekomura, see www.nekomura.jp and for Otariiman http://www.chukei.co.jp/blog/yoshitani/.
Kyo no Nekomura-san

© Yoriko Hoshi / MAGAZINE HOUSE
Boku otariiman

© Yoshitani / CHUKEI PUBLISHING COMPANY
How to Read Japanese Manga

Manga magazines and books in Japan open from right to left, the opposite of Western books, and the lines of writing are vertical. Because of these and other differences, reading Japanese manga can take some getting used to for American and European readers. The elements that make up each page include pictures showing characters with background scenery, dialogue written in text balloons, and often many sound effects drawn in original lettering. Once able to quickly grasp the pictures, text in the word balloons, and sound effects, a reader can enjoy manga as if watching a movie.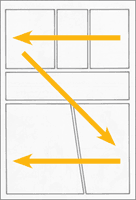 1. Frames
Manga pictures are drawn in frames (koma in Japanese). The basic flow of reading each page is to start from the top right frame, ending with the bottom left frame. The skillful combination of appropriately sized frames makes a story unfold at a good tempo and with striking dramatic effect.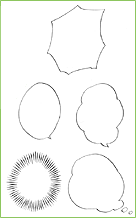 2. Balloons
Words are written in text balloons (fukidashi in Japanese). Word balloons play the role of expressing characters' feelings and describing their situations.
3. Sound effects
The sound of a car crash, a character's scream, other such sounds are described with various exaggerated onomatopoeia or other sound effects in manga. The lettering of the sound-expressing words is styled to fit the situation, depending on whether a noise is big or small, whether a vehicle is moving fast or slow, etc. The use of varied sound effects enables the reader not only to "hear" the sounds but even to follow the fluctuations of a character's changing emotions.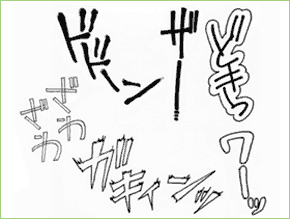 Reference: Ima sugu manga ga kakeru hon, Oyo-hen [A Practical Guide to Drawing Manga] (Bijutsu Shuppansha, 2007)
Original text : Takarabako No.13 "Japanese Culture Now" September 2007.
Copyright(C)1997-2008 The Japan Forum. All rights reserved.
---
Send feedback to forum@tjf.or.jp