Recycle shops
中古品店
ちゅうこひんてん


Recycle shops selling secondhand clothing, sundries, books, and computer games are on the rise. Ministry of Economy, Trade and Industry statistics show that there were 15,000 recycle shops in 1999, more than 40 % more than two years earlier in 1997.

In an Economic Planning Agency survey made in the year 2000 more than half of the respondents said there was a recycle shop in the area in which they usually shopped. 47.9 % said they had bought books and CDs at these shops. The next most common recycle shop purchases were clothing and accessories (31.2%) and children's clothes (24.2%). Items that people had sold to recycle shops included books and CDs (27.2%), clothing and accessories (20.2%), small, personal items (15.4%), tableware (14.8%), and children's clothes (13.5%).

The growing number of recycle shops has created new problems. For example, the re-sale of used compute game software has become a major point of contention between the Computer Entertainment Software Association (CESA) and the Association of Retailers of TV-game Software (ARTS). The annual sale of 480 million secondhand computer games amounts to total sales of 180 million yen, and this has proved a major blow to the new game software market.

A similar debate is raging in the used book market. The retail book and magazine market is worth 2.5 trillion yen, while the used book market total is around 100 billion yen. A new trend is the advent of the new-used bookstore (shinkoshoten) franchise chain, which sells "nearly new" used book. Book Off, a major leader in this new area, opened in 1991 and now has 577 outlets throughout the country. Unlike the traditional used bookstore, the new and used bookstore also sells new publications and because of this it is drawing customers away from regular bookstores.

The copyright issue for game software and books is another problem that is becoming increasingly acute with the growing proliferation of recycle shops.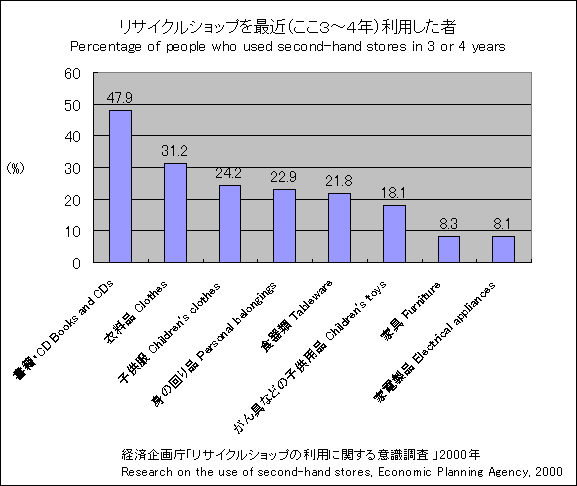 | | |
| --- | --- |
| yk_d15 | yt020 |