自然環境サミット

---

High School Environmental Summit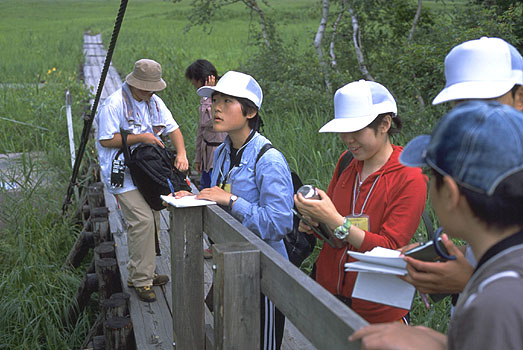 8月に群馬県で高校生自然環境サミットが3日間にわたって開かれ、全国から16校、51名が参加しました。このサミットでは、尾瀬ヶ原で植物を観察したり、水質調査をしたりしました。サミットの主催者である群馬県立尾瀬高校の生徒が、参加高校のグループを案内して、植物や湿原について説明してくれました。
 わたしたち標茶高校と鹿児島県の屋久島高校、佐賀県の唐津北高校は、サミットの前日から尾瀬高校に泊まっていました。夜は花火をしたり、明け方近くまで語りあったり、また、尾瀬高校のすぐ裏を流れている川で遊んだりしました。水がきれいで冷たくて、小さな魚やオタマジャクシがいっぱい泳いでいました。
 いろいろな地域の高校生と知りあうことができて、充実した3日間でした。


---
In August, I participated in the First High School Environmental Summit, held for three days at Oze National Park in Gunma prefecture. Fifty-one students from sixteen high schools all over Japan participated. We observed the plants and trees in the Ozegahara wetlands and did tests of the quality of the water, among other activities. Students from Gunma Prefectural Oze High School, which sponsored the summit, showed around the groups from visiting high schools and explained various things about the plants and the environment of the wetlands.
Students from distant parts of Japan--Yakushima High School, from an island off the coast of Kagoshima prefecture, Karatsu Kita High School in Saga prefecture, and we from Shibecha High School in Hokkaido--arrived at the summit the previous night and stayed over at Oze High School. We had fireworks in the evening and stayed up almost until morning talking. We also went out to play in the river that flows behind Oze High School. The water we played in was clean and cool and filled with small fish and tadpoles.
I really learned a lot in those three days and got to know high school students from many other parts of the country.