Our school trip to Okinawa
2014.12.19
I participated in our school trip to Okinawa with 320 second year students of my high school from 11th to 13th of December!

When I came back from a year studying abroad, I entered the class of students one year younger than myself. I was worried whether I would enjoy the trip with classmates who were all younger than me. It ended up being a truly memorable trip full of delicious meals and lots of talking and laughing with nice classmates.

On the first day, we visited the Kurashinjogama cave (see note 1), Peace Memorial Park, and the Himeyuri Monument (see note 2). We understood how tragic the war was in Okinawa. We read documents about the war in the museum, and observed a moment of silence in the cave, where girl high school students my age had spent their days and nights taking care of injured Japanese soldiers. Until our Okinawa visit, I thought that "war" is the same everywhere, and felt "Peace Studies" was just something we were forced to learn. In Okinawa, though, I fully realized that we must never go to war again.

On the second day, we went sightseeing, forming groups of three or four to go around by taxi. My group visited the beach and a "Ryukyu village" to make Okinawan lion statues (shisa) and Okinawa Churaumi Aquarium. The picture shown is the statue I made.
We ate Raftee rice bowl and Okinawa noodles at a restaurant recommended by the driver on the way. They were really delicious! Raftee is stewed pork cubes, an Okinawan specialty.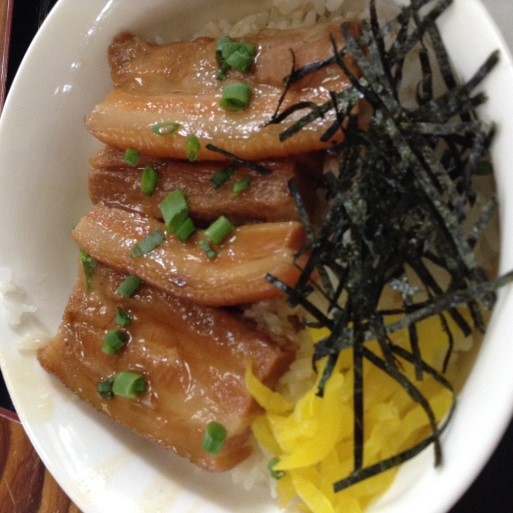 At night, we watched a performance of the Okinawan folk dance Eisa at our hotel. Students volunteered to play the big taiko drum and we all participated in the dancing. It was an enthusiastic night.

On the third day, we visited Shuri Castle and International Street in our homeroom class groups. Together with eight other students, I bought the floral lei shown in the picture.
The school trip was full of fun and laughter. But at the same time I learned a lot about the Battle of Okinawa. Now, I do think much more about peace than before.


Note 1 Gama means "cave" in Ryukyuan, the language of Okinawa. At the end of World War II, when the assault on Okinawa began, caves were used as refuges and hospitals. Kurashinjogama was one of them.

Note 2 Himeyuri War Memorial is a monument commemorating members of the Himeyuri ("Lily") corps who died in the Battle of Okinawa. They were girl students and teachers of the Okinawa Teacher's College Women's Division and Okinawa Daiichi Higher School for Women who worked as nurses during the Battle of Okinawa.

Bibliography

"History of Kurashinjo cave" "History and culture of Gushikami village" Retrieved January 26, 2015 from http://www.town.yaese.okinawa.jp/yaese/yakuba/gushikami/location/culture.htm

Hiroshi KUWAMURA "Visitng Himeyuri Monument and Okinawa Peace Memorial Museum" "Tabirai Okinawa web page" October 1, 2013, Retrieved January 26, 2015 from http://www.okitour.net/sightseeing/tatsujin/00167/

Ichiro HANDA 1999, about "gama" "Dictionary of Ryukyuan" Tokyo Daigaku shorin, p144


       
Author:Natsu

I am currently in my first year of university. I studied in Finland for one year when I was in high school! I love music, reading books, sports, nature, and communicating with people.
Relevant Categories