Tokyo Meat Festival
2014.10.20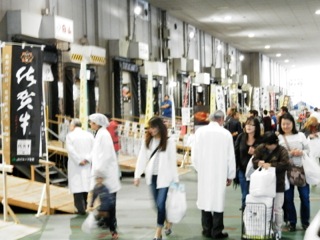 The Tokyo Meat Festival is held once every year for two days in or around October at the meat wholesale market near Shinagawa station. Meat wholesalers and meat companies throughout Japan gather to promote domestic meat at this event. This year the festival was held on the 18th and 19th of October.
Many families queued to buy meat, some of which was sold at half the usual price. In addition to meat, ham, sausages were also sold along with leather bags, shoes and belts made from cowhide.

My family usually purchases imported meat since domestic meat is more expensive, but on this special day we bought lots of meat--a whole bagful.
That night, of course, we ate lots and lots of meat. I was very happy about that.
       
Author:TAKA

I am in the second grade of high school. I am on my high school softball team. I love listening to pop music and sports. Every day, I study hard and also work hard on my softball with great joy.
Relevant Categories